Mom Exercise Groups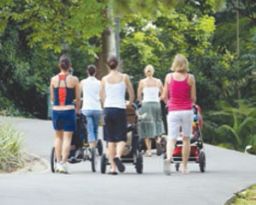 Stroller Strides
http://moms.meetup.com/1795/
Schedule: Classes begin again in early spring 2008.
Description: Are you a mom? Do you want to get fit and stay in shape? Are you looking to get out and meet other moms and children in a healthy enviornment? Would you like to be a positive role model for your child? If the answer is yes… Stroller Strides is for you!
Our 60 minute classes are a complete body workout. We combine power walking, body toning using exercise tubing (provided), ab work and stretching. All of our classes are taught by nationally certified instructors who are also moms! The bonus is that your child is right there with you along for the ride. We welcome babies as young as 6 weeks. All strollers, except umbrella strollers, will work fine for workouts. Your first week of classes are FREE!
South Charlotte Baby Boot Camp
Meet at Huntingtowne Farms Park
2400 Ramblewood Rd.
Charlotte, NC 28210
www.babybootcamp.com
Schedule: Monday, Wednesday, and Friday mornings
9:30-10:30am
Description: Want to exercise with other moms without the hassle of finding a sitter? Want to meet other local moms who care about fitness and wellness? Baby Boot Camp is for YOU.
These stroller-based fitness classes are designed specifically to help moms get fit. Work out with a personal trainer for a fraction of the cost. At a time in your life when you need one more than ever.
Classes combine strength-training exercises with cardiovascular drills. Pilates, yoga and abdominal exercises help improve core strength. The stroller, resistance tubes (and even your child!) are used as an integral part of the workout. We cater to all fitness levels