Modern Grandparents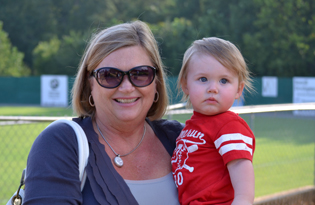 Pictured: Sharon Washam with grandson Grady
Grandparents today are pushing kiddies in strollers and pumping iron. Sharon Washam, 54, does aerobics and works out with a personal trainer twice a week. The grandmother of three, known as "MiMi," works in corporate community relations with Carolinas HealthCare System and is nothing like the stereotypical gray-haired grandma.
Washam says one joy of being a grandparent is watching the wonder in her grandson's eyes as he sees something new every day. "It creates a new sense of wonder and excitement in me that went by the wayside as my own children got older. With Grady [her 1-year-old grandson], I love to walk with him in the stroller and watch him look around at everything in his new world."
Thanks to the baby boomer generation, there are some 76 million grandparents in America. According to GrannyVoter.org, the average age of first-time grandparents is 48, and about one-third of American adults are grandparents. These grandmas and grandpas spend more than $30 billion a year on their grandchildren, double what was spent a decade ago.
This year, National Grandparents Day is Sept. 11. Here's to all the gung-ho grands, who deserve to be celebrated.
Parenting Grandparents
The number of children living with and/or being cared for by their grandparents has increased by 30 percent over the last decade, and more than 6 percent of America's children live with their grandparents today, according to U.S. Census statistics.
Bev Lawston, 61, of Charlotte recently founded Grandparents of America to connect with others like her who are packing lunches and checking homework. The new nonprofit organization started in October 2010 at Lincoln Heights Elementary, where her grandsons attended school.
"There are 6,700 grandparents in Mecklenburg County raising their grandchildren," says Lawston, "and it's for many different reasons – economics, substance abuse, mental illness and early death are just a few. The parents could be serving in the military."
With some 20 members now in Charlotte, Grandparents of America's goal is to help equip and train grandmothers and grandfathers to be more effective advocates for their grandkids at school and in the community.
Babysitting Grandparents
What happens when the children are sick and Mom has an important meeting to attend at work? Often, it's Grammie to the rescue. According to a 2005 U.S. Census report, "Who's Minding the Kids?" some 30 percent of children younger than 5 are cared for on a regular basis by a grandparent during their mother's working hours.
Although Judy Morganthall, 59, and her daughter Krysta Friedrich own a daycare business together in Indian Trail, Morganthall usually hangs out with her granddaughter, Addison, about six hours on weekends. "The best part of being a grandmother is being able to watch how she changes every day, and knowing she recognizes me now," says Morganthall about 10-month-old granddaughter Addison. "She looks at me for a second, and then she gives me a big grin."
Fun-time Grandparents
These Nanas and Papas take their grandkids everywhere. They host "Camp Grandma," offering to have the children visit for weeks at a time during the summer. If they live locally, many grandparents go to Charlotte Symphony Lollipops concerts and Children's Theatre performances with their grandchildren, and they often attend all the soccer games.
More and more seniors are traveling with their grandchildren. Grandtravel, a Washington, D.C.-based company, organizes trips for those who want to show kids the world. In addition, Elderhostel Intergenerational Tours offers educational travel experiences for seniors and their young companions to famous cities, state parks, mountains, beach and more to experience fun and learning together.
Long-distance Grandparents
If Grandpa lives too far to pop over during the week or take the kids fishing on Saturday, there are ways to foster a close relationship. Technology has opened the door for real-time, face-to-face conversations and bedtime stories with Skype, and Facebook keeps thousands of families connected hour by hour. Known as the "silver surfers," the new generation of tech-savvy seniors is keeping up with grandchildren hundreds, and even thousands, of miles away. Online photo-sharing sites, too, allow families to instantly compare family reunion and vacation photos after everyone returns home.
Grandparents of America
This new local organization, headed by Bev Lawston, has partnered with Johnson C. Smith University to help teach grandparents basic computer skills. Five free workshops will be held Saturdays, Sept. 17-Oct. 15, 11:30 a.m.-1:30 p.m., on the JCSU campus.
"Someone from CMS Parent University will teach us about Parent Assistant," says Lawston. "Grandparents who are actively involved in raising their grandkids need to know how to stay up with grades and get children the help they need."
In addition, the growing organization will begin monthly support group meetings in October. For more information, email grandparentsofamericainc@yahoo.com.
Grand Gifts to Share
"Toad Cottages & Shooting Stars: Grandma's Bag of Tricks" is a magical guide to 130 activities for grandparents to do with children of all ages. Make a leaf and flower collage, create a firefly lantern or fairy house, or make your own homemade bubbles for jumbo-bubble fun. (Workman Publishing, Feb. 2010, $14.95)
"Memories for My Grandchild: A Grandmother's Keepsake Journal" is designed to be a memory-keeper for grandmothers to pass on to their grandchildren with space for a family tree, anecdotes about the grandchild's parents and grandmother's childhood, plus room for lots of photos and other memoirs. (Welcome Books, March 2011, $22.50)
GrandCampers: Meerkat Family is a great reminder of the fun adventures kids share with their grandparents. The high-quality plush animals make the perfect gift for grandparents and grandkids to give each other. Collectible GrandCampers are an ongoing reminder of the legacy of love kids build with their grandparents. Meerkat Grammie, $57; Meerkat Papa, $52; and Meerkat Aidan, $49. Available at GrandCamp.com.
See the recipe for Grammy Brewer's Homemade Bubbles at CharlotteParent.com/preschoolers/funstuff.
Lee McCracken is a Charlotte freelance writer and editor.