Mind Over Matter: How Mindfulness Benefits Kids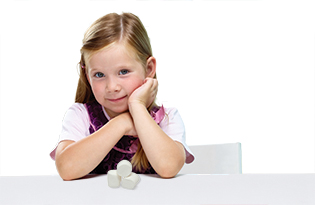 A  woman stands in front of an elementary school classroom. She tells students she is going to ring a bell. Your job, she says, is to count the rings. In another school, second graders sit at their desks, each focusing on a single marshmallow. They are instructed not to touch it, eat it, or throw it across the room. I want you to remember how it feels, the leader says, to want to put the marshmallow in your mouth and to have to wait.
The above exercises are commonly used in mindfulness training. Counting bell rings develops mindful listening and the marshmallow activity forces participants to feel an emotion before acting on it. Mindfulness is defined as the practice of maintaining a nonjudgmental state of heightened or complete awareness of one's thoughts, emotions or experiences on a moment-to-moment basis. Rooted in Buddhism, it was introduced in the west by Jon Kabat-Zinn through his Mindfulness-Based Stress Reduction (MBSR) program. This part art, part science practice that includes breathing techniques and self-calming exercises is now making its way into educational settings, and research shows it's working.
Are We Born Mindful?
Being mindful isn't as difficult as it may sound. In fact, some argue we are born with the natural ability to notice, empathize and be in the moment. "Just notice how a baby becomes enthralled by the sensory experience of touching a piece of fruit or a toy, or how a toddler explores a bug in the yard," wrote Stephan Bodian, psychotherapist and teacher of mindfulness and spiritual awakening, on his Mental Workout blog. "Rather than teaching your children something they don't know, remember that you're encouraging them to practice and cultivate a skill they already have but can easily lose in the push to live up to the expectations of others."
Jennifer Hawthorne, licensed psychologist and Charlotte mom, uses mindful principals in her private practice and her home life. "The cool thing about mindfulness in kids is they are naturally mindful, you just have to give them permission," Hawthorne says. Children are natural noticers, but of course all this noticing can be frustrating when you need to get out the door and to the next place, she admits. "Mindfulness is intentionally pausing, noticing and allowing. Catch them already being mindful and hold the space for that," she says.
Finding Balance in Schools
The Wellness Works in Schools program was inspired by two Lancaster, Pennsylvania principals who were at a loss about what to do in their troubled schools. Trainers of this innovative health and wellness program go into local schools and lead students and faculty through specific mindfulness curriculum, including exercises for self-quieting, problem-solving, relation and emotional balance. "Sit down and pay attention does not work. What does work is when kids are part of the process and can gain self regulation and self control," says Rick Kinder, co-founder of Wellness Works in Schools.
Hawthorne experienced first-hand how mindful curriculum can work in a classroom after teaching an eight-week mindfulness course to second graders at a Charlotte-Mecklenburg Schools elementary school. After the two-month session, students reported becoming more aware of their surroundings, having an easier time falling asleep and slowing down. "I learned to take deep breaths when I'm angry," one student noted. Half of the students also reported teaching mindfulness techniques to someone else.
Staying in the Moment
Mindfulness techniques are also being used to help children with different learning needs, including those with Attention Deficit Hyperactivity Disorder (ADHD). In a 2011 study published in the Journal of Child and Family Studies, parents reported reduced ADHD-behavior in their children after an eight-week mindfulness program. In her private practice, Hawthorne works with children with special learning needs and incorporates mindfulness exercises into therapy. One of her clients with ADHD often moves too quickly, making it difficult for her to focus on a task or relax. "We start the session and set an alarm for every three minutes, then she stops, takes a breath and notices her speed." Hawthorne also uses decorated pebbles to help clients name and focus on feelings while incorporating calming breaths.
Existing in the present moment is tough for anyone, but adolescents and teenagers face particular daunting odds, says Jessica Bloomfield, licensed psychologist at Southeast Psych in Charlotte. "I think teens are pulled in several directions," she says. Between social media, homework, jobs, friends and parents, their attention is constantly being diverted. She utilizes breathing exercises and other mindful practice techniques to help her teenage clients focus on being in the moment. "The idea is you are using mindfulness to create self awareness and be more connected to yourself."
Bloomfield also uses mindfulness exercises to promote nonjudgment and help teens accept their feelings – whether good or bad. "The teen years are such a time of identity formation. Part of how kids know who they are is by connecting to what they feel," she adds.
If you think your teen or adolescent would benefit from mindful practice Bloomfield encourages parents to lead by example. Shut the phones off at the dinner table, take time to be in the moment and really focus on the task whether doing dishes or working out. "Parents can demonstrate without being explicit about it, they can set a good example." There are many useful apps available. She suggests utilizing those created by or endorsed by a professional counseling center to take mindfulness with you on the go.
Megan Cowan, co-founder and program director for Mindful Schools in California, is encouraged by how mindfulness can help children with special educational needs, but warns mindfulness is a practice, not a magic pill. "People read into it it's a general panacea but it's an ongoing exploration that needs time," Cowan says. That said, taking the principles of mindfulness and applying them to stressful situations or diagnoses can make a challenging situation easier by removing judgment and moving towards acceptance, she says.
Step One: You
Leading a life focused on mindfulness begins with you – the parent, the teacher, the mentor or the friend. Cowan says beginning a mindful practice can foster
an awareness you might not realize has been lost.
Case in point, Cowan asks: Do you remember how you got to work today, or did your car just get you there? Have you ever been reading a book and when you got to the bottom of the page, you didn't know what you read? When was the last time your kids started talking and you suddenly realize you have no idea what the conversation is about? "Mindfulness is rebuilding our capacity for attention," she says. "When we are not paying attention, we are not usually aware of when we stopped," she says.
Mindfulness creates a slowing down in a culture constantly asking us to speed up. "Because of the state of our culture and society, there's not as much natural pause in our day to day life." The missing or elimination of the "pause" can cause havoc on our bodies and concentration, she says. "When mindfulness is given time each day, we are giving our nervous system a break from having to respond to all of the stimulus."
This much-needed break could lead to living a more meaningful and effective life. "Being in the moment, living this moment right now. It's not judgment. It's wisdom and compassion, the connection of mind and body," Kinder says.
"At a practical level its kind of stress management, at a deeper level it's a step-by-step instruction in being human," Hawthorne says.
Courtney McLaughlin is a Charlotte native, freelance writer, mother of a terrific 9-year-old daughter, and is remembering how to breathe.
If you are looking for a good way to begin integrating mindfulness into your home, there are many books and websites that offer activities and tips on how to ease mindfulness into your family routine.
"Sitting Still Like a Frog" by Eline Snel
The book contains helpful practices that focus on helping children sleep better, deal with worry and manage anxiety with short examples and anecdotes throughout. The publication also comes with an audio CD with guided meditations.
"Planting Seeds" by Thich Nhat Hanh
Based on Thich Nhat Hanh's teaching of mindfulness and compassion, this book provides activities, songs and exercises to build a foundation of mindfulness. Lessons include mindful breathing and walking, inviting the bell, pebble meditation, eating meditation, dealing with conflict and strong emotions.
Left Brain Buddha creator Sarah Rudell Beach is a teacher, writer, mother and mindfulness enthusiast. She describes her website leftbrainbuddha.com as a place to learn about living and parenting mindfully, joyfully, and thoughtfully, especially in left-brain, analytical lives. The site includes blog posts, a resource library and monthly newsletter.
Beginning Mindfulness
Experts on mindful practices recommend these tips and tricks to begin mindfulness with your family.
• Keep mindfulness opportunities light and inviting, and let children step in.
• Notice natural moments together.
• Focus and be aware of your breathing.
• Read books about mindfulness to your children, and ask for feedback.
• Take a few breaths with your family before heading out the door to start the day.
• Teach by example.