Mexican Quinoa Bake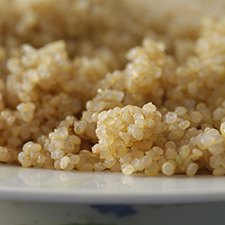 This healthy dish is perfect for a Mexican fiesta.

Ingredients:
2 medium-large sweet potatoes, grated (or chopped into small, 1/4-inch cubes, but I recommend shredding. It's worth the effort!)
2 cans organic black beans
1 cup of quinoa, cooked
3/4 cup fresh corn
1 yellow onion, chopped
4-6 garlic cloves, minced
1 container of salsa (you need about 1 1/2 cups)
3 tablespoons chopped fresh cilantro
1 1/2 cups vegan cheese (any kind will work)
1 teaspoon cayenne
1 teaspoon chili powder
1 tablespoon cumin
1 tablespoon garlic salt
Preparation:
Preheat oven to 350 F. Cook quinoa according to directions. While that's going, shred or chop your sweet potatoes, and saute your garlic and onions until onions are translucent (about 5-7 minutes). Set cooked quinoa aside.
Put your sweet potatoes, corn, onion, garlic, cilantro, beans, a cup of cheese, and quinoa in a large bowl. Add in spices and salt. Stir to mix.
Spray a 9×13 glass dish with cooking spray. Add in quinoa/bean/sweet potato mixture and pat down with your hands. Spread with a layer of salsa and sprinkle a bit more cheese, if desired. Bake for about 30 minutes or until heated through. (If you cut your potatoes instead of shredding, you will probably need to bake longer.) Serve with more salsa and top with fresh cilantro.