Mexican Millet Burgers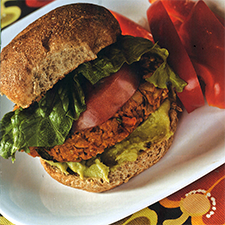 Ingredients
3 tablespoons ground flax seed
1/2 cup warm water
1 1/2 cup millet, divided
1/2 cup onion, chopped
1 teaspoon garlic, minced
1/2 cup carrots, finely chopped or grated
1 14-ounce can garbanzo beans, drained, rinsed and roughly pureed
1/4 cup finely chopped cilantro
1 tablespoon extra-virgin olive oil
1 tablespoon soy sauce
1 1/2 teaspoon cumin
1 teaspoon chili powder
Salt and pepper to taste
Directions
1. Preheat oven to 350 degrees.
2. Combine flax seed and water in a small bowl and set aside.
3. Prepare millet by grinding one cup into a flour using a blender, food processor or coffee/spice grinder.
4. For remaining 1/2 cup millet, bring 1/4 cup of water to a boil. Add millet, cover and reduce heat. Simmer for 15 minutes. Remove from heat and allow to sit for five minutes before fluffing with a fork.
5. In a large skillet that's been placed over medium high heat and lightly sprayed with oil or cooking spray, saute onion, garlic and carrot until tender, about five minutes.
6. In a large bowl, combine onion mixture, cooked millet, beans, cilantro, oil, soy sauce, cumin and chili powder. Add salt and pepper to taste.
7. Form dough into patties, pack tightly.
8. Bake for 25-30 minutes (15-17 minutes on each side) until golden and crisp.
9. Serve on toasted buns and top with trimmings of your choice.
Top with nontraditional toppings like salsa or guacamole.
Nutrition information per serving
490 calories
10 grams total fat
15 grams saturated fat
0 grams transfat
0 grams cholesterol
460 milligrams sodium
84 grams carbohydrates
13 grams fiber
2 grams sugar
15 grams protein