Messing Around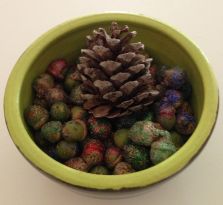 With the start of kindergarten and the strict school schedule that comes with it, I wasn't sure Amelia or I would have the energy for a craft project this week. Well, just the opposite was true – we NEEDED a craft project this week.
Unsurprisingly, we're all exhausted by the time the weekend rolls around. Waking up to catch the school bus while it's still dark out is just not our thing, so Amelia has been spending the weekends not running. In fact, she hasn't wanted to do much of anything, so we've been mostly just hanging out at home, playing with toys and the dog and sleeping in and not thinking too hard. This weekend, she noticed a lot of acorns in the backyard and started collecting them. I quickly remembered that a blog post was due this week and wondered what I could find on Pinterest that would use a lot of acorns. I found plenty of ideas – none of which were of the slightest interest to Amelia. She wanted some paint. Why not, I thought. I was tired. She was occupied. No television was involved. Let's go with it.
So I found some acrylic paints leftover from another project, and just for fun I also found some superfine glitter that had been in the closet for a while. And that's it. We had an empty egg carton in the recycle bin, which we used to mix paint and hold glitter, brought it all outside where the mess wouldn't matter, and she went to town.
Wow, what fun! Amelia experimented. She tried adding glitter directly to the paint, pouring glitter over wet and dry acorns, mixing colors of glitter and paint, dipping, sprinkling, and rolling techniques. She squeezed the paint tubes and poured the glitter herself, and used up almost everything with abandon. That's right – no rules. When I tried to help dip acorns in glitter she asked me to please step away because I wasn't doing it the way she wanted.
And do you know what? I wasn't. She wanted to do it all, herself, her way, in her time. Maybe this is just normal kindergarten behavior, or maybe it's a little bit of kindergarten rebellion – perhaps she's making the most of not taking turns and sharing materials with 23 other kids. Or relieving some stress she has to be feeling from the transition to a new school with new kids. Either way, she made a mess, discovered some properties of paint and glitter, was in a great mood when she finished, and do you know what? Those acorns look FABULOUS in the middle of our dining room table.
Oh…and she gave me something to write about this week!
Want more Mess? Visit Melanie's blog, or drop by her Etsy store, Made by Mommy!