Merry Christmas To All And This Fantastic Website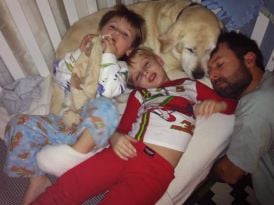 I just thought I would take a moment to say hello and put a face with the name.  Well, my family anyway!  Some of you may know me from the Queen City Style, but I realize that some of you may not know me at all.  To you all, I say hello, Merry Christmas, and thank you for reading this little blog!  I hope you see read and discover fashionable things here you enjoy.  Some times I write a lot, sometimes I write a little.  But when I write, I want to write about what you want to read, so I would love to hear from you.  Please email me and let me know: thequeencitystyle@yahoo.com.  
In the meantime, I hope you and yours had a very Merry Christmas today, and your time was spent with those you love.  I've enjoyed having my husband home for the week.  It is such a huge help with the children.  I have more time to work, clean, grocery shop… well, I'm thinking you know the drill.  Whether you embibe on adult beverages, lemonade, water or tea, I am sharing the Christmas version of these fun cocktails glasses I gave to several people this year.  And so, I bid you adieu with this website which is one of my absolute most favorites for on line shopping.  Merry Christmas to all, and to all a good night!
Cheers!  Whitley