Menu Makeover at Great Wolf Lodge Concord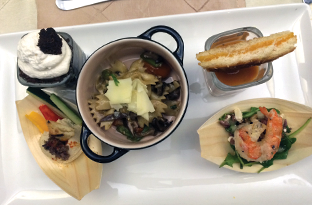 Now when hungry kids need to fuel up after a day of splashing and sliding at Great Wolf Lodge, you can feel better about the food choices being served. You can still get a burger and fries, but the burger is made of all 100 percent natural beef, and the fries are made from potatoes – nothing else, no preservatives.
The menus now also take into consideration more food allergies, including peanut and gluten. No peanuts or tree nuts are used in anything served, and frying oil has changed from vegetable/soy to a domestic made rice bran oil that is GMO-free. Chicken tenders are gluten-free and use non-GMO rice flour rather than wheat flour. The new dog on the menu is a Hebrew National, which has three ingredients: beef, water and salt.
To ease the overload of sugar, kids' meals now include milk rather than a soft drink, and vegetables are included as an optional side, and no yellow No. 5 food coloring in the macaroni-and-cheese. Organic juices, yogurt and even organic ketchup are soon to be menu options as well.