Memorial Day Ideas for Kids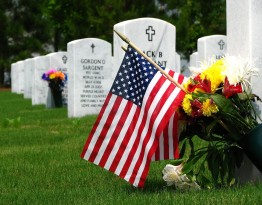 So many families look forward to Memorial Day because it gives them a three day weekend to kick back and relax and enjoy the start of summer fun. We are doing an injustice to our kids if we don't educate them on the reason for the holiday. Hundreds of thousands of men and women have died while protecting us so that we can go on with all these fun picnics, barbeques, and life in general. Here are some fun decorating ideas that you and your kids can make together while engaging in a meaningful conversation on patriotism.
Decorate with flags or bunting – Hang an American flag or drape your deck with bunting to give a festive look to your home and show your appreciation for those who have served.
Patriotic garland – If you don't have a flag or bunting you can make this patriotic garland easily with the kids. All you need is three plastic table clothes (one each in red, white, and blue) and a string of Christmas lights. Cut the tablecloth in strips that are 1 1/2″ wide by 12″ long. Tie onto the string of lights alternating all three colors.
Patriotic Luminaries – I make these at Christmas in silver and gold but they are adorable for Memorial Day, too! Fill recycled cans with water and allow to freeze solid. Using a Sharpie marker, draw a design on the can and then use a hammer and nail to puncture holes in the can. Let the ice thaw and dry the can. Paint with red, white, and blue paint and stick a candle in for a luminary or use it to hold your plastic utensils.
Patriotic Fruit Kebabs – Enlist the little hands in your house to help make a healthy and tasty treat for Memorial Day. Simply slice up some bananas and strawberries, thread onto skewers alternating the bananas and strawberries and arrange on a tray to make the stripes on the flag. Skewer the blueberries separately and place in the upper left corner of the tray to represent the field of stars.
The beauty of thes ideas is that you can reuse them again in July for Independence Day and in August for Labor Day! Do you have any other ideas you'd like to share with our readers? Please post them in the comments section below.
Barbara Green is the owner of Sensibly Chic Designs for Life and the host of Ask the Design Diva radio show. She beleives you CAN have it all: kids, pets, and a beautiful home. Her showroom is located at 830 Lamar Avenue in Charlotte, NC and is open by appointment only. Mention Charlotte Parent Magazine when you call to schedule your consultation and get your first 30 minutes free!