Meet a Pink Power Mom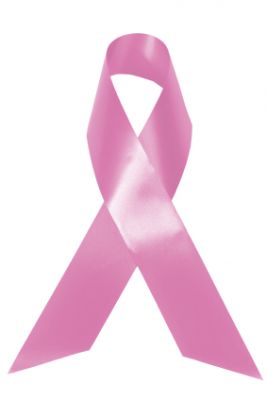 Life and death. Like most young couples, Charlotte resident Mary Hamrick and her husband Chris sort of took this for granted. Life was something that you were granted until you got really old and then you died. That was so far off. Married less than a year, they were your typical 30-something newlyweds: busy being in love, working hard and thinking about starting a family. Cancer certainly did not fit into the plans . . . until one day, Mary found a lump.
Mary explained, "The knot was easy to locate, near the top of the skin. It was defined and felt almost like a marble. Heart racing, I stood in the shower feeling the lump over and over again thinking certainly I'm too young for breast cancer."
Mary went to see her physician who, also thinking she was too young, said it was nothing to worry about. Relieved, Mary left his office celebrating the words she had wanted so badly to hear. But soon after that appointment, the fear of cancer returned. Several weeks later she had her first-ever mammogram and subsequently a biopsy. The next day, on April 16, 2002, Mary discovered that she was going to be a mom. "I was on Cloud Nine! I knew my life was going to change forever, but I still didn't know what was in store just around the corner," said Mary.
Exactly one month later her biopsy came back positive. Mary had invasive ductal carcinoma. Mary thought, "Here I am — 32 years old — newlywed, newly pregnant and newly diagnosed with breast cancer." Somehow her dreams of baby furniture and maternity clothes got mixed into doctors, surgery and chemotherapy. The very next week, she scheduled a mastectomy, but there were still many decisions to make about how treatment would affect her precious baby. Many doctors suggested terminating the pregnancy, but Mary was determined — she was going to have this baby.
Ultimately, all that mattered was Dec. 17, 2002, the day Mary had her beautiful and healthy baby, Sarah Kate. She had a full head of hair, when her mommy had none. "I was instantly and forever in love," said Mary. "This experience has taught me to be thankful. I try not to let traffic ruin my day. A bad hair day doesn't get me down. And I decided to stay home to raise my daughter."
In July 2007, Mary was chosen as one of seven national Bright Start Pink Power Moms.
She was chosen, not only because of her story, but because of the time and energy she puts into fighting breast cancer locally. Mary has served on the Komen Charlotte Board for the past four years, currently as vice president. She has also dedicated five years to raising more than $15,000 as a participant in the Komen Charlotte Race for the Cure®. "It's so easy to make a difference," added Mary. "Just register for the Race and put one foot in front of the other. You can even Sleep for the Cure®, so there's no excuse!"