Making Holiday Family Traditions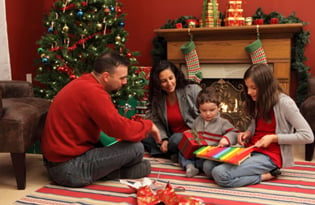 The holiday season is a wonderful time to make lasting memories with kids. Charlotte Parent readers shared some of their favorite holiday traditions.
"We put flour in front of the fireplace to capture Santa's boot prints," Jennifer Burns
"My favorite tradition is decorating the tree together as a family while listening to Christmas carols," Renee Slade.
"My favorite tradition is sending a package of freshly baked treats to the senders of our first Christmas card after Thanksgiving Day," Abigail Mansfield
"Growing up in Denmark, my favorite tradition is dancing around the Christmas tree. I have since introduced this fun tradition to my kids," Rikke Donaldson.
"My favorite family holiday tradition is putting up our Christmas tree stand. The stand is a box that the tree fits on that has wooden pieces that go around the trunk of the tree and sides to form an antique looking house from the 1940. The perimeter of the house is a Christmas yard scene complete with miniature people and snow, and the lights come on inside so you can see the miniature furniture inside the house. The tree stand was built by my Dad's grandfather in 1941," Kirk Herbertson
"We make reindeer munch on Christmas Eve. We mix oatmeal, granola, rice crispies, and a dash of glitter and sprinkle on the driveway," Kate Rowe.
"We sit on the floor, hold hands, and tell the best and worst thing that has happened to us, and what we're thankful for," Lillian Fahr
"Singing Christmas carols as we drive around viewing houses decorated for the holidays, then sipping a warm peppermint hot chocolate with the family," Caitlin Gillespie
"My favorite tradition is getting our Christmas tree. We all pile in the truck and head to the farm in search of the perfect tree. The kids love the hot chocolate and bonfire at the end," Melissa Borkowski