Making a Family Farmers Market Meal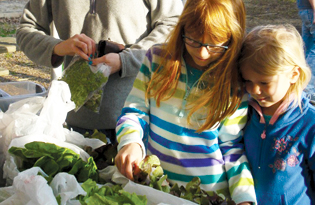 Spending time with your kids in the kitchen not only makes for a fun family project, it helps make your young would-be chefs more conscience about supporting local farmers markets. It might also encourage them to develop their own green thumbs with a family garden this spring or summer, all the while developing better eating habits.
There is no better way to learn about local food than to take the family on a Saturday morning adventure to one of the many local farmers markets in our area. We all want to feed our family the healthiest products we can. For me, the only way to ensure that I am getting the best that's available is to buy locally grown and raised fare. Many area chefs agree, noting that buying locally, knowing the farmer and the farm, and getting in fresh picked produce, brings the process full circle – truly from farm to table. And that's to say nothing of the fact that shopping at the farmers market is tons of fun for kids of all ages.
Even though the variety of produce in many of our area supermarkets is vast, ripe and readily available, nothing is really better than homegrown, in-season produce. Would you believe that just about everything you can buy in a grocery store is also available at area farmers markets in locally grown and produced forms? You can find everything from yogurt to cereal, from biscuits to homemade jams and jellies, to roasted nuts, homemade pickles, fresh baked bread, locally roasted coffees, cheese and milk, juice, dried fruit, an abundance of produce and almost any protein you can think of, including eggs, chicken, beef, pork, seafood, ostrich and lamb – all produced in the greater Charlotte area.
Charlotte farmers markets are open year-round, but if you haven't gone yet or taken your family to check it all out, it's time to turn over a new spring-green leaf and make a family decision to shop and eat locally. It's easier than you may think.
Soon to come are the rich local tomatoes, sweet peaches, crunchy cucumbers and berries of summer. But before that, join your family in celebrating the early springtime appearance of an assortment of fresh leafy greens, including local spinach, arugula and lettuce.
Create a fun family meal with items from local farmers markets, including a great salad topped with sweet grilled fruit, an easy to make wrap made with local chicken or beef, and a sweet treat for dessert as well.
Family farmers market meal recipes:
> Citrus and Herb Salad Vinaigrette
> Grilled Chicken and Veggie Wrapups
> Salad with Garden Lettuces and Grilled Peaches, Apples or Pears
> Apple and Pear Impromptu
Heidi Billotto is a Charlotte culinary expert who hosts cooking classes throughout the area.
Find a farmers market near you in our Farmers Market directory.