Make 'The Nutcracker' a Family Tradition in Charlotte
Tips for sharing a magical family experience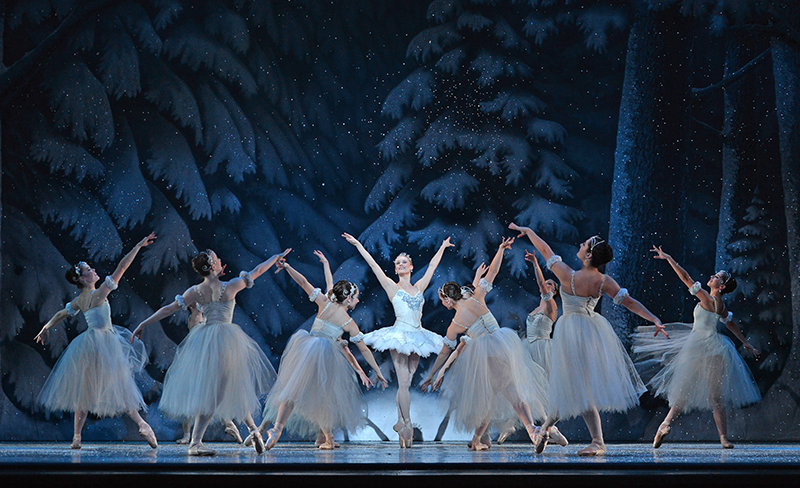 Dancing mice, a Christmas tree rising from the floor, beautiful Sugar Plum Fairies, toy soldiers battling it out, a price and princess dancing in the snow. These are just a few of the magical and memorable moments from "The Nutcracker."
The classic holiday ballet is based on E.T.A. Hoffmann's 1816 fairy tale "The Nutcracker and the Mouse King" with music composed by Peter Tchaikovsky. The ballet premiered in Russia in 1892. It was first performed in the United States in 1944 by the San Francisco Ballet.
Since then, families and children of all ages have attended this ballet as part of the holiday tradition. Is it time to add this outing to your list? Being prepared, managing expectations and getting the little ones into the story ahead of time are just a few ways to make the day merry.
"We find The Nutcracker is often a child's first introduction to ballet, so setting expectations up front is important," says Sarah Wheat, communications manager for the Charlotte Ballet. Below are some tips and tricks to make your first or 50th "Nutcracker" outing a huge success.
Before you go
Learn the story
Several weeks before the performance, start reading "The Nutcracker" as part of the bedtime routine. There are dozens of titles to choose from including the beautifully illustrated children's book by Susan Jeffers. You can also find A Little Golden Book, picture books or the jazz-inspired "The Nutcracker in Harlem." Read several versions of the story and compare and contrast how the tale is told.
Set Expectations
"The Nutcracker" is a classic ballet about Clara and her nutcracker doll told through dance and music. This is a great opportunity to discuss how ballet might differ from other live performances they've experienced.
"Talk to [children] about the choreography, the costumes and the music and how the dancers rely on all of these things to tell the story versus speaking," Wheat says.
Incorporate Interactive Activities
Now that you know the story, get into the action with "Nutcracker" coloring books, paper dolls, The Nutcracker Musical Storybook (an app for iPhone) and free downloadable games and activities online.
Listen to the Music
"The Nutcracker" is filled with songs and melodies that make the season bright. Start playing the soundtrack in the car, while preparing dinner or have a winter afternoon dance off. Ask which songs they like best and talk about scenes from the ballet where they will get to hear their favorite tunes.
Pick the Right Performance
Timing is everything, especially when it comes to kids being seated and quiet. Allow a few hours for the show (most will have an intermission) and select a time when everyone is most likely to be at their best. Rushing home for a nap or waiting too long for lunch can turn a good day into a difficult one.
Some performance companies offer family-friendly shows where the atmosphere is more relaxed. Also consider bringing a booster seat so the shorter set can see everything happening on stage.
---
Day of the Performance
Dress for Comfort
Being comfortable goes a long way in having a positive show experience, so dress the kids in something they won't mind wearing for a few hours. Some children prefer play clothes while others are all for tutus, dance shoes or picking out a special outfit just for the event. A few days prior to the show, set out the chosen outfits.
Arrive Early
Give yourself plenty of time to find parking, the theatre, bathrooms and your seats. Take time to walk around the theatre to get some energy out and get settled.
Enjoy Special Performance Activities
Some performances include special events like pictures with the stars of the show, interactive games and activities, or a question-and-answer session with the cast. Find out what is offered before or after the show and plan accordingly. The kids might not remember the entire performance, but they won't forget having their picture taken with a prima ballerina.
Play I spy
Before the show, talk about things they should look for during the performance. See if they can find Clara's doll, a sword, a clown, candy canes and other items. At intermission talk about what they found in the first act and what to look for in the second part of the show.
Asking questions (using your theatre voice) can also help refocus a child's attention back to the show, Wheat says. If you feel their attention waning, try asking, "How many dancers can you count?" "What kinds of sweets do you see on stage?" Or "What do you think will happen next?"
Bring Snacks
Snacks can be the difference between another 30 minutes of happiness and a complete meltdown. Pack a few goodies and avoid foods that are loud and crumbly. If they can make it to intermission, having a treat from the concession stand is another way to make the day special.
---
After the Performance
Stretch Your Legs
Depending on the weather, plan for some outside time following the performance. Bring a change of clothes and bundle everyone up for a quick trip to the park or a walk around town. Sitting for a long period of time can be difficult for everybody and a brisk walk while you talk about the show could be just the thing to keep your special afternoon on track.
Review the Performance
When the moment seems right, ask them about their favorite parts of "The Nutcracker." Go back and read the story again and ask them questions about the characters and the story.
Lastly, remember to have fun and if you or your little ones aren't quite ready for the big day out, try again next year.
---
Local Nutcracker Performances
From a hip-hop take to a classic Russian performance and aerial feats high above the crowd, there are many different "Nutcracker" performances to suit all personalities. Be sure to purchase tickets early so you can get the show time and date that works best for your family.
Charlotte Ballet's "The Nutcracker"
A holiday classic performed by the Charlotte Ballet and set to music by the Charlotte Symphony. In 2016, the Charlotte Ballet premiered this show with all new sets and costumes. The Charlotte Ballet also offers performances for children with sensory issues, a senior dress rehearsal performance and educational opportunities. Check the website for dates and times.
Dec. 7-23
Belk Theater, 130 N. Tryon St.
Clara's Trip: A Cirque and Dance Nutcracker Story
Enjoy a high-flying version of "The Nutcracker" with Caroline Calouche & Co., an aerial and contemporary dance company and school. Clara trips at a holiday party and is whisked off to the hospital where she discovers she has a broken ankle. That evening, friends and get-well gifts dance in her dreams.
Dec. 7-9.
Booth Playhouse, 130 N. Tryon St.
The Hip Hop Nutcracker
"The Hip Hop Nutcracker" is a fast-paced, upbeat production performed by a supercharged cast of dancers, a DJ and violinist. After the mysterious Drosselmeyer casts a magic spell, Maria-Clara and her prince travel back in time to when her parents first met in a nightclub.
Dec. 26-29
Knight Theatre at Levine Center for the Arts, 430 S. Tryon St.
The Nutcracker
Charlotte Youth Ballet performs this annual holiday classic that features the choreography of Charlotte choreography legend Gay Porter and Bridget Young.
Nov. 30-Dec. 2
Halton Theater, 1206 Elizabeth Ave.
Great Russian Nutcracker
This performance from the Moscow Ballet includes life-size dancing puppets, a 60-foot growing Christmas tree, huge Russian nesting dolls, and a mesmerizing two-person Dove of Peace costume.
Dec. 23
Ovens Auditorium, 2700 E. Independence Blvd
Harris YMCA School of Dance
Watch young talent in action as students from the Harris YMCA School of Dance perform "The Nutcracker."
Dec. 8-9.
Halton Theater, 1206 Elizabeth Ave.
Courtney McLaughlin is a freelance writer in Charlotte.