Make the Holidays More Meaningful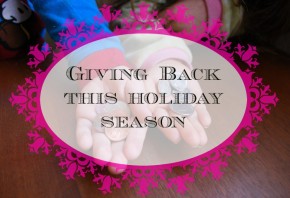 We live in a time and place where so many of us are blessed beyond measure, yet there are still too many people who are suffering and feeling loss. Why not take this last week before Christmas and instill in your children the gift of generosity? Instead of going overboard with excitement for what they can get, help them learn the feeling of reward from what they can give. An added benefit will be having a cleaner house after removing the excess toys, clutter, and socks hanging around. Here are 5 simple ways you and your kids can help others:
Clean out their playrooms, closets, and toyboxes in preparation for the big day. Donate these toys to homeless shelters, children's hospitals, or local churches that can distibute to families in need.
Get out the crayons, markers, and paper and let them make greeting cards and letters for soldiers that are serving our country.  Here is a link to the different organizations that can facilitate the delivery of cards, letters, or care packages: www.ourmilitary.mil/letter-and-messages
Make a quick and easy craft to donate to the local Humane Society: Gather up the kids' stray socks, add some stuffing and catnip inside and tie the end into a knot so the filling doesn't fall out. The cats and kittens will have a great time playing with their gift!
Bring the kids along to the grocery store and pick out some non-perishable food to donate to the local food pantry. Explain that it may seem simple for them to have a nutritious meal at home, but others aren't so lucky. 
Make a blanket for Project Linus. As long as your kids can tie a knot, they can make a no-sew blankie for a child that doesn't have one. All you need is 1.5 yards of two patterns of fleece. Email me or go to the Project Linus website for directions. 
These crafts and activities should help keep your kids busy while waiting for Santa and also help clean out your home of unneeded goods. It is never too early for childen to learn the importance of generosity to those less fortunate. Do you have any other suggestions? Please share them in the comments section below.
Barbara Green is the owner of Sensibly Chic Designs for Life and the host of Ask the Design Diva radio show. She believes you Can have it all: kids, pets, and a beautful home. Her showroom is located at
830 Lamar Avenue and is open by appointment only. Please call 704-608-9434
to schedule your private consultation.