Make Johnny Appleseed Proud!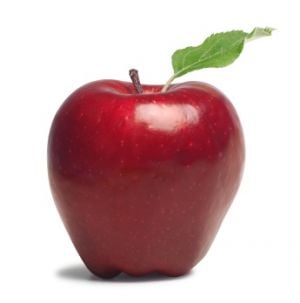 If Johnny Appleseed's plan was to get the nation hooked on apples, he would have been pleased with my family. Our love affair with apples began when our oldest son was a mere 16 months old. A friend with a toddler of her own called one morning to see if we wanted to visit a local apple farm with her.
Being new to the area, I jumped at the chance of an outing. What we discovered that day became what our family affectionately called, "The Apple Place." Although it did not offer a pick-your-own orchard, this particular farm did have a wonderful fruit stand that made a visit there an experience in itself. Growing over 100 different varieties of apples, they offered taste tests of the different kinds that were available any given week.
We tasted apple varieties we'd never heard of, that soon became our favorites. We learned that a farm-fresh Golden Delicious is actually just that – delicious — not the mealy thing often found at the grocery store. Needless to say, apple season has become an anticipated time of year.
If you have access to fresh farm apples this fall, take advantage of it. Try any of these fun activities or recipes to make the most of the season.
Go Apple Picking
To find the orchard closest to home, try the following Web sites: www.pickyourown.org, www.applejournal.com and www.allaboutapples.com. Make sure to call ahead and see what their picking conditions are. Most orchards' seasons begin in August and run through October or November. Usually there is the option to pick apples yourself or purchase them at the farmstand. For several years, our family has enjoyed visiting local apple farms where we can pick our own. We make a day of it, taking a picnic and supplementing our feast with fresh apples, of course! The setting is beautiful, the fresh air and exercise invigorating, and the apples taste great.
Cook Up Some Applesauce
Homemade applesauce is amazingly easy to prepare and tastes so much better than the store-bought variety. Make sure to have the kids help. Peel, core and slice apples. Place in a large stockpot or crock pot with enough water to cover the bottom of the pan. Cook on low until apples begin to soften. Mash with a potato masher or wooden spoon until desired consistency: chunky, smooth or somewhere in between. Stir in brown sugar and cinnamon, if desired. This freezes very well so you can enjoy your harvest throughout the winter. Prepare as directed, place in freezer-safe containers, cool to room temperature and freeze.
Have an Apple Taste Test
Purchase at least three different varieties, labeling the bags so that you remember their names. Slice the apples and place on separate plates, marking them A, B, C, etc. Provide apple dip for your testers and have everybody dig in. Give each person a chance to choose their favorite. Laugh it up by writing down specific comments and trying to be creative in your feedback. Light and crisp with a buttery finish!
Make an Apple Print
Cut two apples in half. One horizontally, so that the star shaped seed pocket is exposed; the other lengthwise so that the cut side resembles an apple shape. Provide the kids with smocks, large pieces of poster paper, and some washable paint. Take turns dipping the apples' cut sides in paint and "stamping" a variety of apples on the papers. These make beautiful wall hangings, wrapping paper or placemats.
Read Stories about Apples
I keep a box of children's books, written especially about apples. We love to bring out the collection as soon as the first apples are ripe. Some of our favorite stories include "Apples" by Gail Gibbons, "Apple Picking Time" by Michele Slawson and "How Do Apples Grow?" by Betsy Maestro and Guilio Maestro. Peruse your library's catalogue and you'll find some favorites of your own.
Make Apple Dolls
Here is an updated version of the prairie girls' dollies. While a little too fragile for active play, they make cute additions to your autumn décor.
You will need:
• Apples
• Lemon juice
• Pastry brush
• Plastic knife
• Apple peeler
• Styrofoam cones
• Fabric
• Glue gun
• Glue sticks
Help your child peel and core an apple. With a small plastic knife, carve eyes, mouth and nose into one side of the apple. Paint lemon juice over all surfaces. Set aside in a dry, warm place for several days and up to several weeks depending on humidity. If you have a food dehydrator or can borrow one, that is ideal and will accelerate drying time. The apple will shrivel as it dries, causing the carvings to take on a new shape. Attach dried apple to styrofoam cone using hot melted glue. (This step is for adults only! Hot glue can burn.) Decorate styrofoam cone with different fabrics for clothing.
Bake an Apple Crisp
Here's an easy recipe. Make sure to include the kiddos in the cooking as well as the eating.
• 6 apples, peeled, cored and sliced
• 1 cup sugar
• 1 Tbsp. lemon juice
• 1 tsp. cinnamon
• Dash of nutmeg
• 1/2 cup flour
• 2 Tbsp. butter or margarine
• 1/2 cup quick cooking rolled oats
• 1/4 cup brown sugar
Preheat oven to 375°F. Lightly grease a pie plate. In medium bowl, combine apples, sugar, lemon juice, cinnamon and nutmeg. Pour into pie plate. In small bowl, place flour and butter. Cut butter into flour with two knives until crumbly. Stir in brown sugar and oats. Sprinkle evenly over apple filling. Bake 45-50 minutes, or until filling bubbles and topping is browned. If topping browns too quickly, cover with aluminum foil until baking is complete. Allow to cool about an hour. Serve with whipped cream, whipped topping or vanilla ice cream.