Make it a Kid-Friendly Fourth of July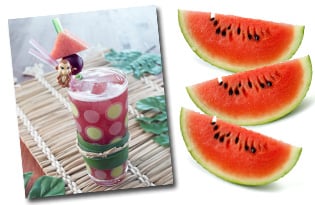 Set up the sprinkler, make frozen popsicles, plan some games and invite the neighbors over for your own neighborhood block party.
• Celebration Popsicles
Make patriotic red-and-blue frozen treats for a refreshing afternoon treat.
• Patriotic Pinwheels
Set up a craft table outside and let the kids have fun decorating and making pinwheels.
• Fourth-of-July Chalk Drawing Contest
All ages can have fun creating a sidewalk chalk masterpiece that depicts something all-American.
• Noise Makers
An easy craft toddlers and preschoolers can help make, and later shake at the fireworks celebration.
Make Watermelon Grape Fizz drinks too cool off the crowd.
Ingredients:
1 cup seedless watermelon puree
1/4 cup grape juice
3/4 cup sparkling water
Crushed ice to taste
Instructions:
Mix together the watermelon puree and grape juice in an oversized tumbler. Add the sparkling water, then the ice, which causes a nice fizz. Serve immediately.
Servings:
Makes 1 drink
For more watermelon recipes, visit www.watermelon.org.