Make a Pet Peep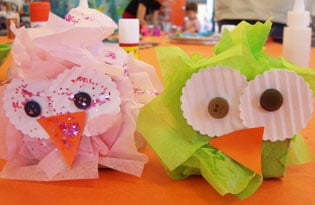 Wouldn't it be fun to have a downy little pet peep perched on your wrist all day, cheering you on during soccer practice and helping you with your homework?  These cuddly little springtime companions double as a colorful fashion accessory that you'll want to show off to all your friends, or surprise that special someone with!
With a little imagination, a box and a glue stick, you can create a chatty little friend that will talk your ear off and keep you from ever feeling sad or lonely!  The hatchling season for this particular species of peeps lasts from early spring through summer, and while they may be similar in color to their squishy little cousins that line the grocery store shelves for just a few short weeks at Easter, these peeps have a much longer life expectancy and can be a loyal family pet for years to come!  Warning:  unlike the snowy owls who inspired this springtime craft, these energetic little peeps never sleep.
You Need:
• A small recycled box, 2-4 inches in size (cosmetic boxes work great!).
• Glue stick
• White school glue
• Pastel colored tissue paper (pink, yellow, green or blue), torn or cut into 1 – 2″ strips
• Colored construction paper for eyes and beak
• Two buttons
• 2-inch rubber band
How to Do It:
1. Slip the rubber band around the lid of the box and close/fasten the lid.  The box will become the peep's body, and the side with the rubber band will become the bottom of the peep, so he can slip onto your arm to perch when you're done.
2. Using the glue stick, apply a generous amount of glue to every side of the box except the side with the rubber band.
3. For the peep's downy plumage, layer the strips of pastel colored tissue paper onto the box, working from the bottom up.  Cover all sides except the bottom with the rubber band.  It is impossible to make a mistake with this step.  Even very young children can randomly grab handfuls of tissue paper and randomly stick them all over the box.  The more feathers the better!
4. Pick a side of the box to make the face.  Cut two large round circles out of construction paper, and glue onto the box, overlapping each other a bit.  These will form a circle of feathers around their eyes.
5. Using the white school glue, glue buttons on the round construction paper circles for eyes.
6. Cut a small triangle out of orange construction paper for the beak, and glue it onto the face under the eyes, using white school glue.
7. Count to 20 (or 187, depending on how much glue you used) to ensure the glue sets up briefly before you perch your pet peep on your wrist!
8. Give your pet peep a clever name like Penel-o-peep or Dave.
Contributed by small hands big art. Small hands big art is an art studio in South Charlotte that offers classes, camps, & parties for children & young adults. Located at 8025 Ardrey Kell Road.