Magnetic Bookmarks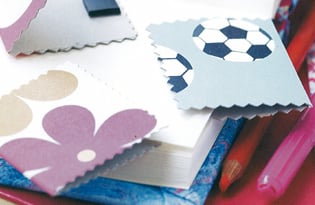 These handy decorative bookmarks are cut from the folded edges of cereal packets. They are finished with pretty patterned papers then trimmed with decorative edging scissors.
You will need:
• An empty cereal box
• scissors
• decorative paper (such as gift wrap)
• glue stick
• pinking shears
• self-adhesive magnets
Step 1: Cut Up Box
Cut out a rectangular shape from the cereal box, cutting cross the folded edge, so that you have a piece of card measuring approximately 10-by-15 centimeters/4-by-2 inches, with a fold running through the middle. This is your bookmark.
Step 2: Stick on Decorative Paper
Cut out a piece of decorative paper the same size as the bookmark. Place the bookmark flat on the table and use the glue to stick the decorative paper to the front. Press the paper flat to make sure the edges are secure, then let the glue dry completely.
Step 3: Cut With Scissors
Cut all the way around the edges of the bookmark using pinking shears or decorative edging scissors. If you find the card difficult to cut, ask an adult to help.
Step 4: Finishing
Peel the backing paper off the magnets and stick one to each side of the folded bookmark. Press down firmly. The magnets hold the bookmark in place. You could add names to the front of the bookmark if you are giving them to friends or family as gifts.
Project excerpted from "Paper Scissors Glue," by Catherine Woram, photography by Polly Wreford (Ryland Peters and Small, $19.95).