Mac and Cheese Recipe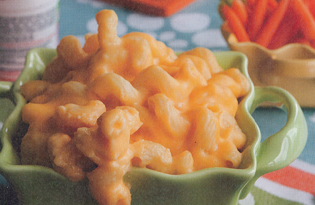 This fun favorite is good as a whole meal for dinner or as a side dish. It's so simple to make, you'll want to make it again and again.
Makes 4-5 servings.
Prep time: 5 minutes
Cooking time: 3 hours
Ingredients:
– 1/4 stick butter
– 1 1/2 cups uncooked macaroni
– 1 quart milk
– 3 cups grated sharp cheddar cheese or cubed Velveeta cheese
– 1/2 teaspoon salt
– 1/4 teaspoon pepper
Equipment:
– Small microwave-safe glass bowl
– Plastic wrap
– Potholders
– Rubber spatula
– 3-quart slow cooker
1. Place the butter in a small microwave-safe glass bowl. Cover with plastic wrap.
2. Microwave the butter on High for 30 seconds, or until it is melted
3. Use potholders to remove the bowl. Use a rubber spatula to scrape the butter into your slow cooker.
4. Add the macaroni, milk, cheese, salt and pepper to the butter in your slow cooker. Stir well.
5. Cover the slow cooker. Cook the Mac and Cheese on low for three hours.
Serving suggestion: This is also a very special meal for lunch. Serve with a side of veggies and yogurt.
Recipe excerpted from "Fix-It and Forget-It Kids' Cookbook" by Phyllis Pellman Good (GoodBooks, $19.99)