Love and Marriage After Kids
How to keep the love alive in the midst of parenting responsibilities.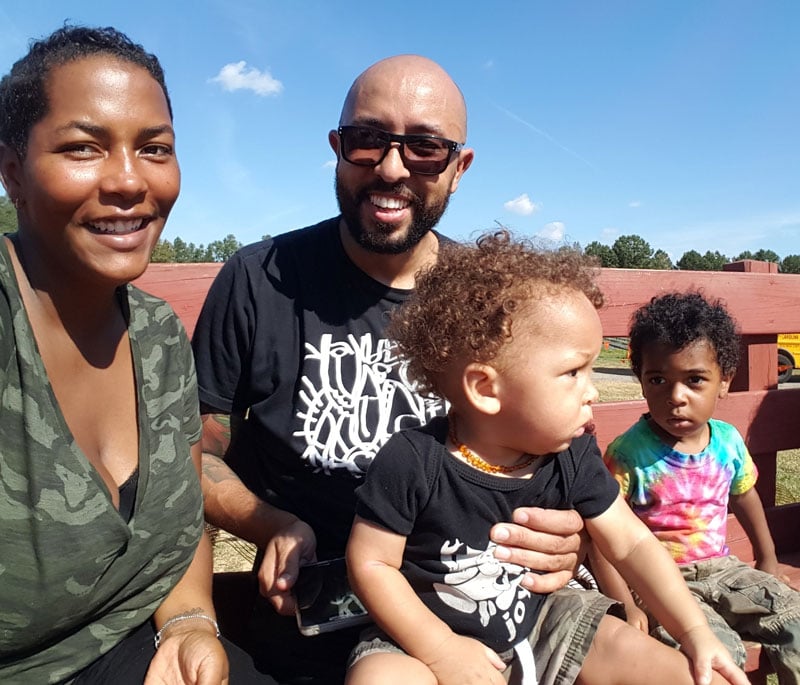 My husband, Ryan, and I celebrate 19 years of marriage in July. In the early years of our marriage, we traveled to national parks, took dance lessons and watched movies on a Saturday afternoon. We had time to talk about our dreams, money to spend on extras and energy to be romantic. Our world revolved around one another. There were no distractions. That changed 13 years ago with the birth of our first son. Since then, the continuous challenge has been to keep a focus on our relationship despite the welcome and chosen diversions our three boys have brought to our lives.
Finding Time and Energy
Sustaining a focus on your relationship after kids takes thoughtful practice, ongoing communication and everyday work. Common issues that get in the way of maintaining a marital relationship after children: time and energy. Parents are too exhausted to communicate, lack time to invest in a romantic gesture and are low on funds for a date night. Unfortunately, maintaining a marriage can fall to the bottom of the "to-do" list without a conscious effort to keep it at the top.
Yvonne Ritchie, a licensed clinical social worker for more than 20 years, works with adults and married couples at Carolinas HealthCare System NorthEast Psychiatric Services, and recommends that parents check-in with each other on a regular basis.
"Above all, they need to have ample opportunity to keep communication open and on-going," Ritchie says. Whether it is on the phone, at home or over dinner, time to talk is necessary. She also suggests that couples set annual goals and review them regularly. "Check on the progress that has been made toward those goals," she says.
Most parents forget about how important self-care is in marriage, too. "A relationship really can be enhanced by each individual focusing on good self-care," Ritchie says. "A balance of time with each other, with friends and doing separate interests sure spices up a relationship and enhances the conversation."
Love and Toddlers
Kelley Carboni-Woods, 35, and Christian Carboni-Woods, 40, are parents to Palmer, age 3, and Duke, who is 11 months old. The couple lives in Villa Heights near uptown Charlotte, and has been married for almost seven years. Before children, they traveled often.
"Sometimes we would wake up on a Monday and say, 'where do we want to go?' We would get on a plane and spend the day eating and running around," Kelley Carboni-Woods says.
Since having children, they have adjusted their point of view on staying connected to each other.
"It is difficult because our children are small," she says. "I think that on a daily basis, the idea of what it means to be romantic with one another has had to shift." The couple's romance now comes in the form of Tuesday night "Pho Night" that includes takeout of their favorite dish and eating together in peace at 9 p.m.
---
---
On a day his wife has been with the kids by herself, Christian Carboni-Woods picks up a candy bar and Arizona Iced Tea — their version of a "40" — on his way home. They are both laughing when they share this inside joke. Christian Carboni-Woods says that they try to find realistic ways to express their love that meet their current time and budget constraints.
"It is a choice that we make. It is in the small things that we can do," he says.
Merging Families
A blended family presents unique issues when it comes to keeping up a marriage. From the beginning, they had to learn to respect each person's parenting styles, build relationships with each other's children and work together with ex-spouses.
"Once we got married, we did get counseling, so that we could get a feel for how to treat and respect one another, and be teammates," Weiland says. They learned to focus on themselves and avoid sweating the small stuff.
They havea strict no-drama rule in their household, and appreciate the simple things like making dinner for one another. "Mac-and-cheese goes a long way," Sklar-Weiland says.
---
---
The couple surrounds themselves with people who have a positive influence on their life, and those who support them in their marriage. Their strong spiritual beliefs provide a bond for them and a way to center their marriage and family life.
Mary Sklar-Weiland and Trey Weiland have five children from their first marriages, ranging in age from 13 to 19.
---
Relationship Connectors
Ritchie reminds couples to do fun things together and appreciate what each partner brings to the relationship. "It is a crazy world out there. It is hectic when you add in jobs and children, and the stresses of life. It is important to keep your sense of humor." Try these ideas to keep the spark alive.
1. Plan a morning or afternoon date when it is easier to get a sitter and you are more rested.
2. Establish a weekly ritual, such as taking a walk or order-in dinner, or even do a chore together.
3. Send a friendly text or email without a to-do list message attached.
4. Share a childhood story with your partner.
5. Give your partner the night off.
6. Listen to your partner talk about their day. Try not to interrupt or offer advice. Just listen.
7. Pose for a photo shoot with just your spouse. Let the kids be the photographers.
Vanessa Infanzon is a freelance writer, mom to three boys and married almost 19 years. Follow her @morethanVMI.