LILY BAKES: Strawberry-filled Cupcakes
The latest from our resident kid baker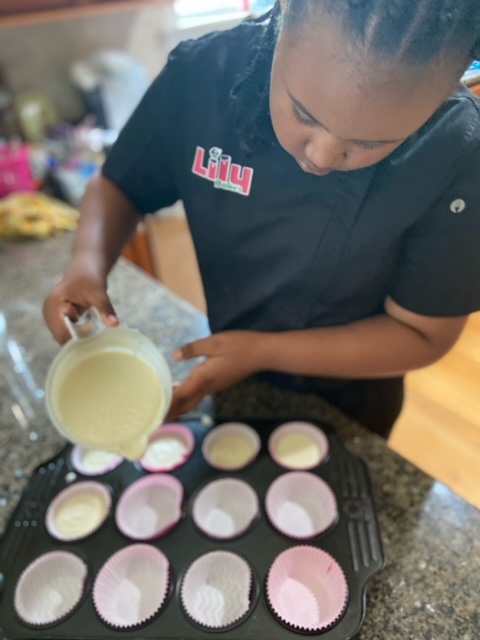 Lily Barnes is our 11-year-old resident kid baker. Each month she shares an original recipe that kids can make at home with their parents, plus a few behind-the-scenes tips and tricks to make your treat extra special. Here is Lily's recipe for Strawberry-filled Cupcakes:
STRAWBERRY-FILLED CUPCAKES
This month I decided to make these cupcakes because it's my 11th birthday in April and I like having cupcakes for my birthday. I think it is fun for kids to make because you can decorate them any way you'd like. Adding food coloring to the icing, adding sprinkles or candies on top are all fun ideas.—Lily
INGREDIENTS
CAKE
8 ounces unsalted butter, room temp



14 ounces sugar



6 large egg whites, room temp



14 ounces cake flour



2½ teaspoons baking powder



½ teaspoon salt



1 teaspoon vanilla extract



10 ounces milk, room temp



2 ounces vegetable oil
FILLING
16 ounces frozen strawberries

1 cup sugar

1 tablespoon lime juice
INSTRUCTIONS
Preheat oven to 345ºF and fill muffin pan with cupcake liners.

Combine milk, oil, and vanilla extract and set aside.

Combine cake flour, baking powder, and salt and set aside.

Place butter in a bowl and mix with sugar (I used a hand mixer) until fully combined smooth.

Add the room temp egg whites to the butter mixture while mixing on low until fully combined.

Add the first half of dry ingredients, then alternate with milk mixture. Mix until smooth

Add batter into cups ¾ full and bake at 345ºF for 18 to 20 minutes.

Let cupcakes cool, and then using a plastic knife, cut out a small hole in the center of the cupcake (make sure you don't go to bottom part of cupcake).
Filling:
Add all ingredients to a pan and simmer over medium heat.

Using a potato masher, crushed up the strawberries.

Simmer for 5 to 6 minutes until sugar has fully dissolved into strawberries and a light syrup forms.

Refrigerate.

Fill the cupcakes with cooled strawberry mix and cover the cupcake with your icing of choice or whipped cream.