LILY BAKES: Marshmallow Pound Cake
The latest from our resident kid baker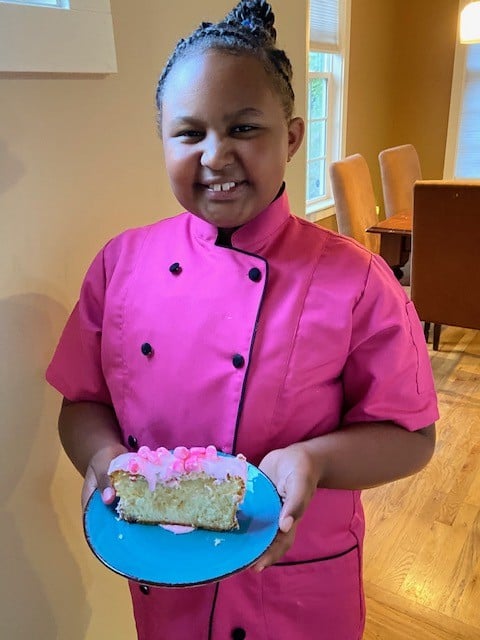 Lily Barnes is our 10-year-old resident kid baker. Each month she shares an original recipe that kids can make at home with their parents, plus a few behind-the-scenes tips and tricks to make your treat extra special. Here is Lily's recipe for Marshmallow Pound Cake:
MARSHMALLOW POUND CAKE
I think kids would enjoy making this with their families because you get to use (almost) a pound of each main ingredient, you get to pick your favorite color for the marshmallows, and there will be a surprise marshmallow center in the cake that your family will taste when they eat it!—Lily
INGREDIENTS
2 cups unsalted butter room temp
3 ½ cups sugar
6 eggs plus 6 egg yolks
1 ½ Tablespoon vanilla extract
1 teaspoon salt
3 ⅓ cups all-purpose flour
½ cup miniature marshmallows
4 cups Marshmallow Fluff
Any food coloring you like
RECIPE
Preheat oven to 350°F and generously grease two 9 inch tube pans with butter and flour. Shake out excess flour and set aside.
Scrape down the sides of the bowl and add sugar. Beat until the ingredients are light and fluffy fully and mixed together.
In a separate bowl, mix eggs, egg yolks, vanilla extract, and salt.
Slowly add egg mixture into your batter, on low speed with mixer. (I do this in 5 steps) Once all of the egg mixture is mixed, scrape down the sides of the bowl and mix at slightly higher speed a few more minutes.
Slowly add the flour in batches at a low speed.
Scrape the bowl and make sure it's all evenly mixed.
Pour the batter into the pans filling them half way.
Scoop 1 cup of marshmallow fluff into the each pan along the center covering the length of the pan (directly on top of the batter)
Pour remaining batter to fill each pan covering the marshmallow fluff filling
Put in to oven and bake for an hour, checking with a wooden skewer at 50 minutes. Depending on your oven you may need to add another 10 to 15 minutes. Careful to not over bake the cake or it will be dry.
Allow cake to cool for at least 20 minutes, then using a plastic knife, go around the edges of cake to loosen it from the pan.
Dump it out (right side up) onto parchment paper or a cooling rack.
Poke the cakes with a skewer and brush generously with a mixture of equal parts sugar and water to maintain moisture.
You can then melt your remaining 2 cups of marshmallow fluff with desired food coloring … I used pink!
Drizzle the marshmallow topping over the cake and top with miniature marshmallows.