Lily Bakes: Confetti Surprise Cookies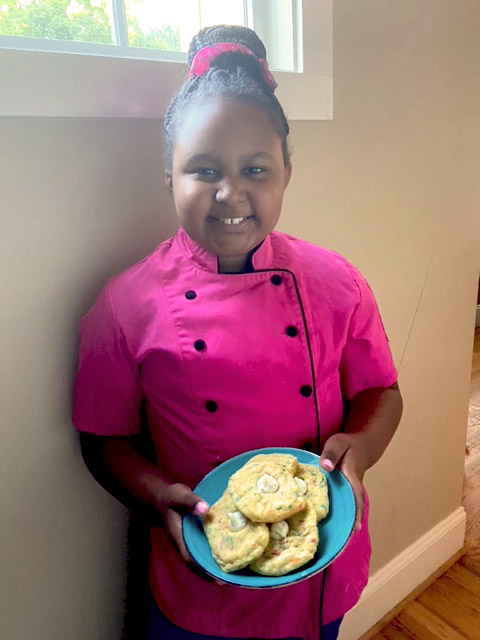 Meet Lily Barnes, our 10-year-old resident kid baker. The rising 5th grader comes by her love of baking naturally—she's grown up watching her father Jamie, chef and co-owner of What the Fries, flex his creative muscles in the kitchen. Lily has also trained with pastry chef (and 2021 Charlotte magazine BOB winner) Jamie Turner. She loves to watch "Nailed It!" on Netflix for a good laugh and a reminder of what not to do in the kitchen, but someday she hopes to appear on The Food Network's "Kids Baking Championship" to show off her skills.
Charlotte Parent is thrilled to have this talented young pastry chef onboard. Each month she'll share an original recipe that kids can make at home, plus a few behind-the-scenes tips and tricks to make your treat extra special. Here is Lily's recipe for Confetti Surprise Cookies:
CONFETTI SURPRISE COOKIES
This dessert was fun to make because I was able to choose the flavor, add a lot of sprinkles, and add a yummy surprise that I like in the middle.—Lily
INGREDIENTS
1 ½ cups all-purpose flour
1 ½ teaspoons baking powder
¼ teaspoon kosher salt
½ cup unsalted butter, softened
1 cup granulated sugar
2 eggs
2 teaspoons pure vanilla extract
1 cup sprinkles
2 cups white chocolate chips
1 bag Birthday Cake Hershey Kisses
DIRECTIONS
Preheat the oven to 350°F. Line two baking sheets with parchment paper.
In a bowl, whisk together flour, baking powder, and kosher salt. Set aside.
Whisk butter until smooth. Slowly pour in the sugar as you mix. Beat sugar and butter until light and fluffy. Add eggs and vanilla extract, mixing until combined and scraping the sides of the bowl as needed. Add in flour mixture and mix until just combined. Add ½ cup sprinkles and stir by hand until combined. Fold in white chocolate chips.
Roll out dough and cut into even 1-inch squares. Spread out onto a parchment-covered cookie sheet. Sprinkle remaining sprinkles on tops of cookies and press one Hershey Kiss in the center.
Bake for 8-10 minutes. The edges should be completely set, and the centers should look slightly undercooked—they will finish cooking as they cool on the baking sheet.
Place the baking sheets on wire racks to cool. Repeat with remaining dough once the baking sheets are completely cool. Recipe yields about 36 cookies.