LILY BAKES: Breakfast Bread With Mixed Berry Spread
The latest from our resident kid baker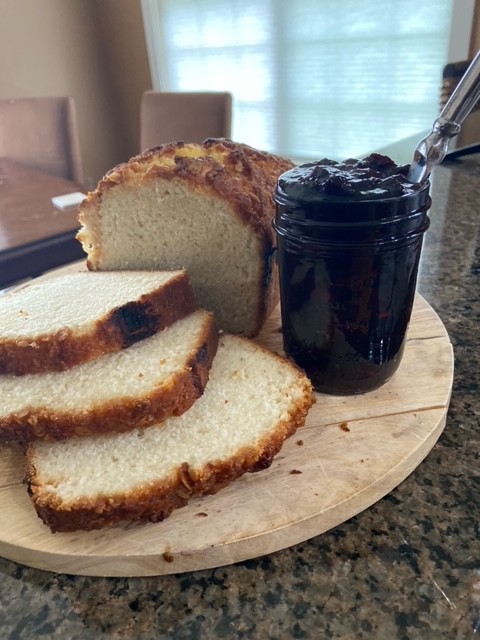 Lily Barnes is our 11-year-old resident kid baker. Each month she shares an original recipe that kids can make at home with their parents, plus a few behind-the-scenes tips and tricks to make your treat extra special. Here is Lily's recipe for Breakfast Bread With Mixed Berry Spread:
BREAKFAST BREAD WITH MIXED BERRY SPREAD
I wanted to try something to bake for breakfast, so I made a breakfast bread with fresh jam. Since I love breakfast food, this was a fun choice! This option was fun to make and others would enjoy it because it is a simple recipe to make that is easy to add different fruity toppings on.—Lily
INGREDIENTS
BREAD


4 cups plain/all purpose flour



8 teaspoons baking powder 



5 teaspoons white sugar



2 teaspoons kosher salt 



2 ½ cups milk warmed



¼ cup grape seed oil

2

tablespoon

honey

2

tablespoons

oats
SPREAD
2 ½ cups mixed berries

¾ cups sugar

Juice from 1 lemon and 1 lime
INSTRUCTIONS
BREAD:
Preheat oven to 430ºF. 


Line a 9 x 5 loaf pan with parchment
 paper .

Combine flour, baking powder, sugar, and salt in a bowl
.

Make a well in the middle of the flour mixture and pour in oil and milk. Fully mix.

Pour the bread mix into the loaf pan using a rubber spatula. 


Bake for 30 minutes. Remove from the oven and drizzle on honey followed by oats. Cover with a greased piece of aluminum foil.

Turn oven DOWN to 390ºF, return bread to oven, and bake for another 20 minutes. 


Remove from the oven. Cool in pan for a few minutes, then transfer to a cooling rack. 


Allow bread to cool for 30 minutes before slicing. Serve with berry spread.
BERRY SPREAD:
*with the help of an adult
In a pan on low heat, add berries (I used fresh strawberries and blueberries)

Squeeze in all the juice of a lemon and a lime, watch for seeds.

Pour in all of the sugar and mix quickly so it doesn't stick to the pan, and simmer on low for 10 to 15 minutes until berries have softened and a light syrup forms.

Transfer berries into a container and cool in the refrigerator. Use within 2 to 3 days.