LILY BAKES: Banana Bread
The latest from our resident kid baker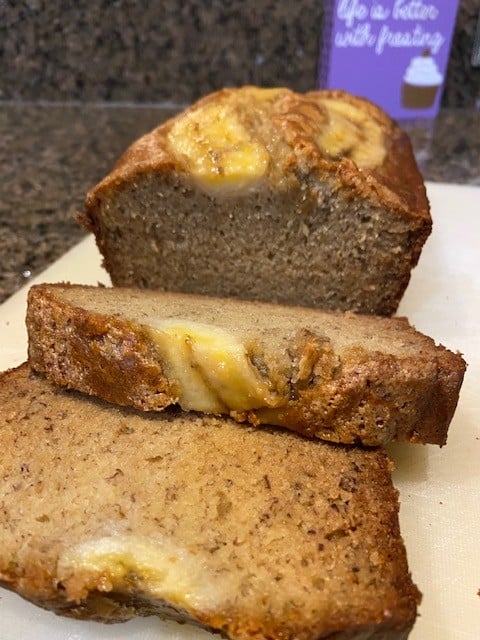 Lily Barnes is our 10-year-old resident kid baker. Each month she shares an original recipe that kids can make at home with their parents, plus a few behind-the-scenes tips and tricks to make your treat extra special. Here is Lily's recipe for Banana Bread:
BANANA BREAD
I think Banana Bread will be fun for kids to make with their families because you get to add bananas or any fruit in the batter to add a special flavor. Adding the fruit on top will make it look great!—Lily
INGREDIENTS:
1 cup light brown sugar; plus ¼ cup set aside

⅓ cup butter, softened

4 ripe bananas; 3 for mix and 1 to slice in half and set aside

¼ cup milk

¼ cup sour cream

2 large eggs

½

teaspoon maple extract

2 cups all purpose flour, I used King Arthur

1 teaspoon baking soda

1 teaspoon nutmeg

½

teaspoon kosher salt

1 teaspoon baking powder
DIRECTIONS:
In a large mixing bowl, mix the brown sugar with butter. Add the bananas, sour cream, maple extract, milk, and eggs until fully mixed.
In a separate bowl, mix together flour, salt, baking powder and baking soda. Slowly combine the dry ingredients with the wet ingredients in batches until fully combined.
Pour batter into a 9×5 inch loaf pan brushed with butter and place the sliced banana half on top.
Bake for 1 hour or until you can place a toothpick in the center and it comes out clean.
After resting for 10 minutes remove the bread from pan and allow to cool another 10 minutes before slicing.
Serve with butter, hazelnut spread, or peanut butter!