Lightened-Up Swedish Meatballs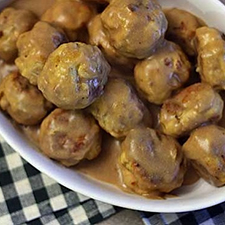 Cooked this for my family last week and we loved it!
Source: Healthy. Delicious.
Prep Time: 10 minutes
Total Time:  40 minutes
Serves 4
Ingredients:
1/2 cup Fresh Bread Crumbs (from about 2 pieces of bread)
1/2 cup Skim Milk, divided
1 Onion, minced
1 Egg, lightly beaten
1 lb. Ground Turkey Breast
1 tsp. Salt
1 tsp. Nutmeg
1 tsp. Allspice
2 Tbs. Butter
2 Tbs. Flour
2 cups Beef Stock
1/2 cup reduced-fat Sour Cream
1 Tbs. Raspberry Jam
Optional: No-Yolk Egg Noodles for serving
Directions:
Preheat your oven to 400F.
Combine the bread crumbs and skim milk in a large mixing bowl. Let sit for 5 minutes, or until the bread has soaked up the milk. Add the onion, egg, turkey, salt, nutmeg, and allspice. Use your hands to very gently mix the ingredients — be careful not to overwork the meat or it will become gummy and tough. Divide the mixture into four portions. Divide each of those portions into four more portions, and gently roll each into a ball. Arrange the meatballs on a baking sheet, being sure that the balls don't touch each other. Bake for 15 minutes. Roll the balls over so that a different side is touching the sheet and bake for another 15 minutes.
While the meatballs are baking, start your sauce: Melt the butter in a large pot over low heat. Whisk in the flour; keep whisking for about 3 minutes, or until the roux becomes a golden brown color. Slowly add the beef stock, whisking constantly to prevent lumps from forming. Cook over low heat for 10 minutes, or until the gravy reduces by about one-third and becomes velvety. Add the meatballs. Remove from heat and stir in the sour cream and raspberry jam.
Serve over egg noodles.