Letters to Santa at Macy's Benefit Make-A-Wish Foundation
Use your child's wish list to help grant the wishes of children with life-threatening conditions this holiday season.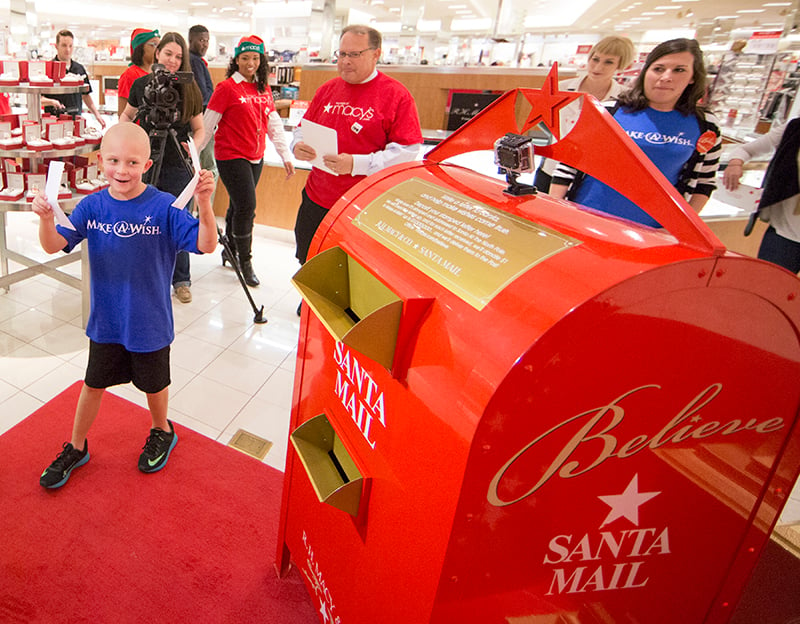 Have the kids already crafted their wish lists this year? If so, taking them and their stamped letters to the nearest Macy's will also help raise money for the Make-A-Wish foundation. As part of Macy's Believe campaign, all letters taken to the stores or submitted online (macys.com/believe) will result in Macy's donating $1 per letter to Make-A-Wish, up to $1 million, to help grant the wishes of children with life-threatening medical conditions.
Charlotte resident and Make-A-Wish child, 6-year-old Braylon Beam, helped kick off the campaign at Macy's at SouthPark Mall in early November by showing off his dance moves and dropping the first letter of the season into the Macy's Santa Mailbox.
Macy's has created an app with interactive games that teach about the magic of giving and a Wish Writer stylus. The stylus is available for $14.99 at approximately 600 stores and at macys.com, with $1 from each sale going to Make-A-Wish. Since 2008, Macy's Believe has inspired customers across the country to participate, resulting in more than $10.8 million donated to Make-A-Wish.
Submit your letters through Dec. 24.