Let There Be Light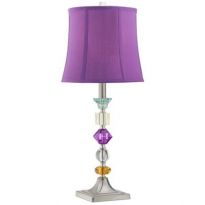 Every good lighting plan needs three kinds of light: ambient, task, and accent lighting. While recessed lights and ceiling fixtures may be practical, they certainly don't add any style to the design. Lighting for kids' rooms can accomplish several of these tasks and do it with a creative flair. The lamp to the left serves as a beautiful accent, but also provides ambient lighting for the room.
This octopus light is a fun addition which adds a pop of color and is a cute source for accent lighitng.
This sports lamp serves as an appealling decorative element while providing ambient light to the room.
This whimsical lamp looks like paint spilling but actually serves as a very functional task light, shining brightly on a work surface such as a desk.
The last light is pure fun and also serves up nostalgia for the parents or grandparents who might remember the spinning mirror balls from the disco era.
Keep your mind open while selecting lamps. Do you have any interesting ones you'd like to show us? If so email me at barbara@sensiblychic.biz. I'd love to see them!
Barbara Green believes you CAN have it all: kids, pets, and a beautiful home. She is the owner of Sensibly Chic Designs for LIfe and the host of Ask the Design Diva radio show and believes you don't have to spend a million dollars to look like you did.