Lentil Loaf Cupcake with Sweet Potato Frosting and Pea Sprinkles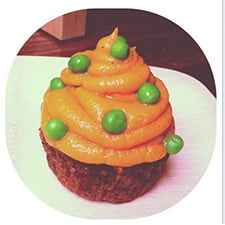 Says Chef Margo, "It's delicious and savory: think meatloaf and mashed potatoes, only healthier and packed full of nutritious goodness! Also, the orange marmalade doesn't make them very sweet… just adds a little depth. A dinner in a fun shape… yes please!!"
Ingredients:
2 sweet potatoes
4 tbs. olive oile
1/2 yellow onion, minced
1 carrot, minced
1/4 red bell pepper, minced
2 cans of lentils
1/4 bunch fresh parsley, minced
4 TBS instant oatmeal
1 tsp oregano
1 tsp worcestershire sauce
1/4 tsp better than bouillon vegetable base
1 TBS tomato paste
2 TBS earth balance
3 TBS orange marmalade
1 Tsp chipotle chili pepper
1/2 cup frozen peas
Directions:

Preheat oven to 350°.
Puncture sweet potatoes with a paring knife, coat with olive oil and wrap in foil. Place sweet potatoes in oven and cook until soft about 30-45. While potatoes are baking drain and rinse lentils. 
Place 1/2 the lentils on a mixing bowl and the other half in a food processor and purée. Add the purée into the mixing bowl with the rest of the lentils and set aside. 
Sauté vegetables for 5 minutes. Add sautéed vegetables to the mixing bowl. Add parsley, oatmeal, oregano, Worcestershire sauce, vegetable base, and tomato paste to the lentil mixture. 
Mix all ingredients until incorporated and set mixture aside. Next take a cupcake tray and line with paper liners. Scoop mixture into cupcake try and fill 3/4 of the way fill with mixture. Bake for 45 minutes. Remove from oven and set aside. 
Now, take the sweet potatoes while still hot and peel them. Add them to the food processor along with the earth balance , orange marmalade, chipotle, and salt. Purée until smooth.
Now for the assembling. Take your sweet potato purée and put it into a pastry bag with a large round tip or you can use a zip lock bag, fill with sweet potato mixture and cut the corner off of the bag. Now "frost" the top of your veggie loaf with the sweet potato mixture. And add peas as sprinkles and serve to your little one. Delicious, nutritious, and fun!
> Back to Healthy Recipes