Lend a Hand at Lake Wylie Clean-up
Join Surfrider Foundation of Charlotte to help clean up the shores of Lake Wylie, Sept. 19.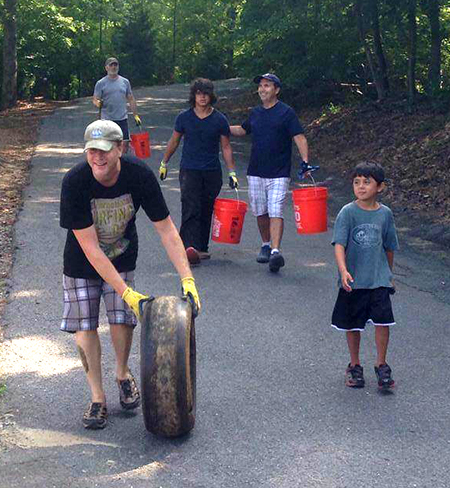 When Adam Aldrich moved to Charlotte from California with his family, he missed the easy access to the ocean for an afternoon of surfing. Distance, perhaps, makes the heart grow fonder. Tony Dobson, moved here from Florida and is passionate about anything that deals with the beach and ocean. Their love for water and waves, led them to co-found the Surfrider Foundation of Charlotte. Surfrider Foundation of Charlotte is a local chapter of the national nonprofit that provides educational awareness around issues that are detrimental to coasts and waterways in North Carolina.
Each third Saturday of the month, Surfrider Foundation of Charlotte hosts local waterway clean-ups. On Sept. 19, families are invited to join in a clean-up on Lake Wylie. Meet at McDowell Nature Preserve anytime between 9:30-11:30 a.m. by the waterfront deck and the Kingfisher trailhead. Wear clothes you don't mind getting wet or dirty (something most kids love!).
Surfrider Foundation also supports the mission to reduce the use of plastic that often ends up in waterways. Help make the clean-up event plastic-free by bringing your reusable water bottle to stay hydrated.
No registration is required, and the event qualifies for students who need community service hours for school.
Found out more at charlotte.surfrider.org.