Lemon Icebox Surprise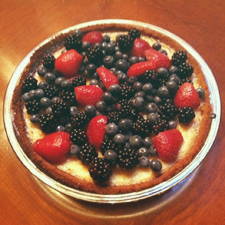 This cool, patriotic pie is perfect for the Fourth of July.
Crust:
1?2 Cup butter or margarine (1 stick)
1?4 Cup sugar
1?2 tsp. PENZEYS CINNAMON
18   whole graham crackers, finely crushed  (2 Cups)
Filling:
1  14 oz. can sweetened condensed milk
1?2 – 3?4 Cup fresh lemon juice (juice of 4-6 lemons)
2  large egg yolks
1?4 tsp. LEMON EXTRACT
1?4 tsp. PURE VANILLA EXTRACT
2-3 Cups fresh sugared berries
1-2 Cups whipped cream (optional)
Crust: Preheat oven to 375°. Melt margarine or butter. Stir in the sugar and CINNAMON. Add the crushed graham crackers. Toss to mix well. Spread the mixture into an ungreased, deep dish pie plate. Press onto the bottom and sides to form a firm, even crust. Bake at 375° for 4 to 5 minutes or until the edge is lightly browned. Cool before filling.
For the Filling: Reduce the oven heat to 350°.  Beat together the milk, lemon juice and egg yolks. The larger amount of juice will increase the tartness of the dessert. Add the LEMON and VANILLA EXTRACTS and stir until the mixture thickens. Pour into the cooled pie crust. Bake at 350° for 18-30 minutes or until stiff. It shouldn't move at all when you gently jiggle the oven rack. Let cool and then place in the refrigerator to chill thoroughly before cutting. Top with fresh berries and whipped cream if desired.
Prep. time: 20 minutes
Baking time: 22-35 minutes
Serves: 8