Leaving the Elementary School Years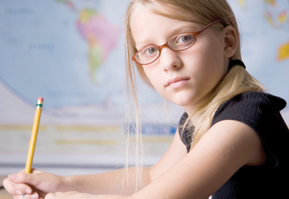 During the elementary school years most children are in a self-contained classroom — one room where they are taught all of the subjects other than music and physical education. They have only one teacher so the students and teacher know each other well. The teacher can regulate how much homework and how many tests students have on a given day.
Sometime between fifth and seventh grade this changes. Children move up to a middle school or junior high. This brings about new challenges:
Junior High Schools
In a junior high school, students may have between four and eight different teachers each day. Each teacher may have over a 150 different students daily and may not know any of them well. Each student has a different schedule so your child may be in classes with over a 100 different students each day rather than the same 25-30 students all day. He may not get to know his classmates well.
Each class meets in a different classroom. Your child will have five minutes to navigate the building and find the next classroom. He may have to locate his locker and make sure he has the right books for each class.
Your child may receive long homework assignments from each teacher the same night or have three or four tests the same day.
Your child goes from being one of the older students in the building to being the youngest in the new school. Younger students often take a lot of teasing.
Middle Schools
The middle school is a more nurturing situation, according to Casey Prann, who has taught in both the junior high and the middle school setting. In the middle school, one team of around four teachers work with a group of the same 100 or so students. These teachers meet together to discuss their students and plan units. The teachers agree on policies, discipline, and communicating with parents.
"Working in core groups lets us observe the children. We can rearrange classes to split up problem students. We often work together to create themes and correlate the math, history, English, and science material to center on that theme. It helps the students tie it all together," Casey says.
Some educators complain that the middle school concept is too elementary. While it is good for the fifth or sixth graders, it doesn't prepare seventh or eighth graders for the quick pace and the competitiveness of high school. Still, most educators feel that the nurturing and team concept of the middle school outweighs any negative aspects.
Making the Transition
The transition from the elementary school to middle school or junior high can cause anxiety in some children. You can help your child with the transition.
• Visit the school. Take your child to visit his new school at the end of his last year of elementary school. Help your child learn his way around. Locate classrooms, restrooms and the cafeteria.
• Meet the teachers. As soon as class lists are posted, arrange for you and your child to meet the teachers. Don't wait for open house, which is often a month after school begins. Go the week before school starts, or as soon as teachers are back from summer vacation. Discuss any special needs your child might have.
• Be aware of rules and routines. Know the procedures for ordering hot lunch, entering the school in the morning, and anything else of importance.
• Stay in touch. Review the work your child brings home. Make notes of anything that concerns you or indicates a problem and call the teacher after school hours about it. Arrange a conference if necessary. Know what your child is learning in each class and supplement it with movies or books from the library.
• Be involved. According to educational research, students whose parents are involved in the school do better. Involvement may mean volunteering to tutor children in the classroom, talking about your career, or helping with a fund raiser.
The transition to middle school or junior high marks a growth point for your child. Help him face it with confidence and enthusiasm.
Katrina Cassel, M.Ed., lives with her husband, five of their children, and an assortment of pets in the Florida panhandle.