Leaves Before Turkey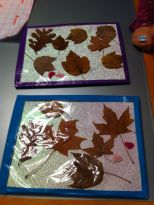 We're hosting Thanksgiving this year. Somehow I've reached what my mother informs me is "middle-aged" without ever hosting a real, all-ages Turkey Day. Sure, I made a turkey once, but that was long before Amelia was born and everyone ate grown-up food, and I never even considered stuffing the turkey with macaroni and cheese.
Anyway, the food is scaring me so with two days to go I'm starting with the easy stuff – decorations.
This simple leaf coaster project seemed like it would translate well to other sizes – placemats, a table runner, almost anything – and it does. Best of all it was easy, quick, and got us outside.
There are only a few supplies:
• Craft foam
• Clear contact paper or self-adhesive laminating sheets.
• Duct tape
• Leaves
First, arrange the leaves on the foam.  We tried to keep them at least ½" from the edges, to leave room for the tape, but otherwise anything goes. Amelia threw in a few flowers too.
Next, carefully lay the clear adhesive sheet over the foam and press. We found that the leaves stick to the adhesive better than the foam did, but it still kept the arrangement intact. Our laminating sheets were the same size as the craft foam, so there was nothing to trim – but if you're using adhesive that is larger than your foam, trim the excess.
And the final step is the frame.  Cut a piece of duct tape the length of each side, affix it to the edge of the front and wrap it around the back to stick. The first piece was a little bit tricky because the clear adhesive sheet was still loose, but after that first piece Amelia did all the flipping and securing.
And just like that, we have centerpiece mats!  Now, can I make a turkey with leftover duct tape?
Things we learned:
• The clear contact paper needs to be at least as large as the craft foam. Don't worry if it doesn't stick very well. The duct tape will seal the edges, so the contact paper just holds the leaves in place.
• We used glitter foam, which looks extra festive on the table. This may be why the clear adhesive sheets didn't stick so well…but hey, it sparkles!
• Next year we'll try this earlier in the year, while the leaves are still brightly colored. We have mostly brown leaves left on the ground, but they still look great.
• We're planning to put hot dishes on these mats during dinner. I'm not sure whether this will melt them, that will be our next experiment!
Want more Mess? Visit Melanie's blog, or visit her Etsy store, Made by Mommy!