Leading by Example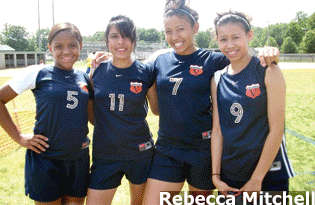 At an age when it's not cool to stand out, teens that set goals and take risks are seen as leaders. Teen leaders, who consider their status a responsibility rather than just a privilege, get affirmative nods from colleges and corporations.
With spring fever and graduation ceremonies fast approaching, many high school students are merely marking the days off their calendars, but three Charlotte teens are leading their peers with dedication and passion by staying involved in the community and pursuing their goals.
We spotlight these teens not because their stories are extremely unique, but because their leadership qualities, despite challenges they've overcome, are what colleges and corporations seek out and commend.
Passion and Persistence
Barbara Seyter, associate director of admissions at UNC-Charlotte, says teen leaders are committed, grounded and forward-thinking students, and they're the ones who have the courage to stand for what's right.
"I work hard to get where I'm at," says Rebecca Mitchell, a senior at Vance High, "and even though the end (of the year) is so close and other seniors want to cut corners, I want to keep up the momentum. I don't want to lose it and have that slack carry over into college." Rebecca hopes to study pre-law a George Washington University in Washington, D.C., next fall.
Rebecca didn't let being diagnosed with asthma at age 2 stop her from living out her passion on the athletic field. Since her freshman year, Rebecca has played on the Vance varsity girls' soccer team and, for two years, she was the team captain and leading scorer.
"She is the fastest girl on the team," says Jody Ledezma, her soccer coach at Vance. "She plays 100 percent of every game, giving me 100 percent effort from start to finish."
Ranked second in her senior class at Vance, Rebecca is the president of the National Honor Society. She also tutors middle school students through Cougar Connection and is a volunteer youth soccer coach.
Staying Focused
While leadership seems to be an outward trait, it really starts on the inside. Some children are born with an inner drive to go forth and direct others, and some grow into it. Either way, self-motivation precedes motivating others.
Travis Brown was 9 when he lost his mother to pancreatic cancer. Although some teens would use the tragedy as an excuse, Travis uses it as motivation.
"After she passed away, I knew I wanted to do my best to make her proud," says Travis. The E.E. Waddell sophomore is a straight-A student, leads the school's JROTC program and works 15 hours a week at Southminster Retirement Community in Charlotte. He is on the varsity football and wrestling teams, and a volunteer coach in the N.C. Youth Football League.
Travis sets his goals high and knows his hard work will pay off. "Anything I want, I put my mind to and know that I have to work hard to get it," he says, noting he's already focusing on his future career and hopes to study accounting at UNC-Chapel Hill or be drafted into the NFL.
"You need to have a strong mind, and have discipline and commitment to achieve what you want … and stay focused, no matter what."
Travis is a respected leader among his peers at Waddell, because he works hard and respects everyone he meets, says Laura Johnson, the high school's graduation project coordinator. "He is the true definition of a role model," she says.
Leading by Example
Teens shine when they are able to lead by example. College admission personnel and employers look for young people who are more than just a lot of talk. Teen leaders don't just lead by words alone, but also by their actions, says David Kraus, director of admissions at Davidson College.
The ability to get along with peers and work well within a group is an important quality of leadership. After all, leaders must have followers in order to be effective.
"It is important for other students to see the example of these leaders, who step up and out of the crowd and are noticed for doing the right thing," says Weddington High wrestling coach Robert Filter. Weddington senior Jake Helms, for example, never hesitates to use himself as an example, and he encourages his teammates with his own failures and successes.
"I tell them to not give up and to look at where I came from … and now look where I am," says Jake, who has made decisions that have impacted the trajectory his life and who's willing to share his experiences.
Years ago, Jake wasn't the same student he is today. At the end of his freshman wrestling season, Jake had won just one match, and his grades were failing. But with the start of his sophomore year, he became determined to make the most of his high school career.
"I didn't want to be that kid who barely made it through high school and couldn't go to college, because his grades were too low, so I decided I wanted to make something of myself," says Jake.
Now, a senior, Jake not only excels academically, but also is the captain of the varsity wrestling team and the president of Fellowship of Christian Athletes on campus, and played varsity football last fall.
"The biggest thing that keeps me going is the fact that I can always do better. I try to push myself to do the best," says Jake, who plans to study accounting at Kings College in Charlotte.
Accolades Lead to Admission … and Beyond
Standing out in a competitive society — whether trying to get into college or land a job — means not just wearing Nike's slogan "Just do it" on a T-shirt, but taking action. While other teens go to class and try their best to get good grades, these students get involved. They work hard, give back by volunteering, set goals and then achieve those goals.
"Travis stands out for all of the right reasons," says Kurt Baumgarten, the sophomore's Junior ROTC instructor at Waddell. "He has always been respectful, dependable and trustworthy." Applauded for his outstanding character and dedication, Travis recently was named Student of the Month and received a national math achievement award.
Rebecca and Jake, too, have been recognized for their persistence. Rebecca recently was awarded the United States Achievement Academy's National Social Studies Award and earned All-Conference honors for her athleticism on the soccer field. As a junior at Weddington, Jake was honored with the Team Above Self award during the 2009 football season — an honor given to the most unselfish and dedicated player. This year, he received the Heart of a Warrior honor, which is reserved for athletes who regularly display hard work and respect.
Leadership takes honesty, commitment and integrity, and if these Charlotte teens continue to display the kind of can-do initiative our nation was built on, they may just be the next generation of CEOs and entrepreneurs.
Amanda Talbot is a 2010 graduate of Western Carolina University and a former intern at Charlotte Parent. She lives and works in Washington, D.C.