Last-Minute Christmas Decorations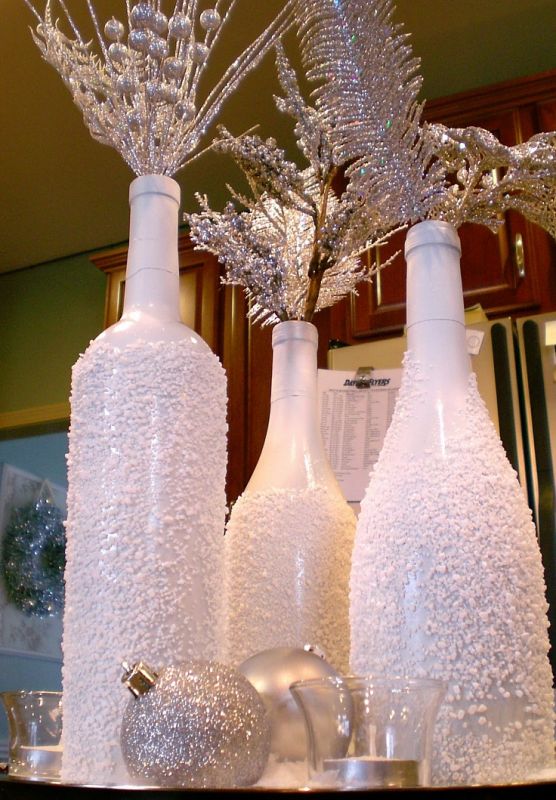 Are you running behind on your Christmas decorations? Don't worry, because I've got some quick and easy ways to bring Christmas style into your home without spending a lot of time or money.
The first idea not only looks beautiful, but it clears your counter or entry table of Christmas card clutter and gives you the chance to appreciate the beauty of each card. All you have to do is gather a bunch of bare branches that have fallen to the ground. Stick them in a vase or other tall vessel. If the container is ugly you can wrap it in pretty fabric and ribbon. Then hot glue or tape a loop of ribbon to the top of each Christmas card and hang them on the branches. Now you have a lovely tree filled with warm sentiments from family and friends. 
If you are in need a centerpiece for the table, scavenge some empty bottles from the recycling bin and wash them out. Then you can either spray paint them white and sprinkle them with epsom salt for a snowy look or keep them clear but wrap some evergreens around them and stick a candle in the top. 
If you are looking for a whimsical decoration that will be a fun activity for the kids, hit the recycling bin again, but this time for empty milk jugs. Have the kids cut circles out of black construction paper for the eyes and mouth and an orange triangle for nose. A pipe cleaner with pom-poms on the ends make the ear muffs. Finish it off with some mini lights inside the milk jug and you've got a cute illuminated snowman. You can place this inside on a table or counter or outside to greet your guests or passers-by. 

Barbara Green is the owner of Sensibly Chic Designs for Life located at 830 Lamar Avenue in Charlotte and the host of Ask the Design Diva radio show. She believes you CAN have it all: kids, pets, and a beautiful home.