Kids Should Ask More Questions, Here's Why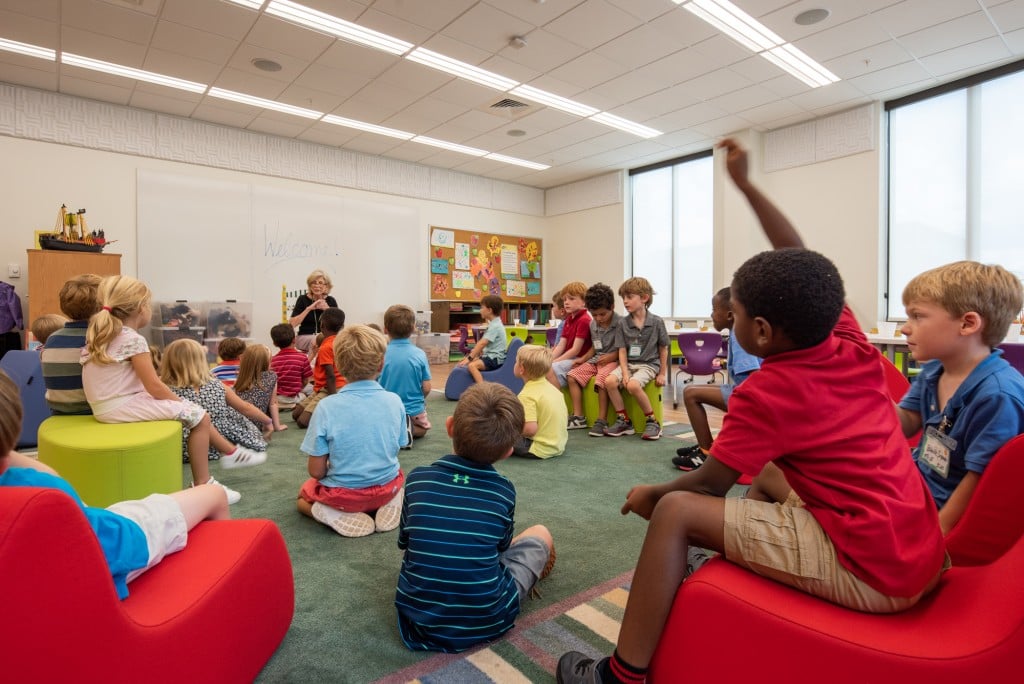 Kids Should Ask More Questions, Here's Why
Helping your child ask more meaningful questions can lead to his or her intellectual independence and the respectful exchanging of ideas among their peers.
Kids should ask more questions. That's what Kasey Short, sixth grade English and Language Arts teacher at Charlotte Country Day School, says, anyway.
But before you start getting frustrated at the thought of having to answer even more of your child's burning questions such as, "Where do babies come from?" or, worse, "Are we there yet?" — hear out Short's case on establishing a culture of questioning. It's a lot more important than you might realize.
"When students are provided consistent opportunities to develop and discuss complex questions," Short posits, "they're empowered with knowledge, curiosity, and intellectual courage."
So, Short is saying children should learn how to ask more meaningful and complex questions—not the broad-ranging queries like those mentioned above. The Country Day teacher explains that helping children learn to ask better questions can further develop their intellectual independence and courage and overall curiosity. Short says the first step to helping your child ask the right questions is to create a culture of questioning.
How to Establish a Culture of Questioning
CHARLOTTE COUNTRY DAY SCHOOL
A culture of questioning helps students engage in respectful discourse with their peers.
Short says that a culture of questioning will, ideally, encourage your child to ask more questions without the fear of being judged. This means modeling specific questioning strategies that can help. Short does this in her own classroom at Charlotte Country Day School, focusing on creating an environment that gets all students involved so they can develop confidence in their own ability to craft meaningful questions and share their responses. Additionally, she establishes classroom procedures for respectful dialogue so that students feel safe sharing their thoughts with their peers.
"I indirectly model questioning strategies by carefully considering the questions I ask," Short explains. "I set up the year with a few questions that are then discussed throughout the year. Through seminar discussions and reflective writing in the spring, for example, I use questions such as 'How does where you live impact how you live?' 'How do humans continue to progress in a diverse world?' and 'How does constructive conversation cultivate empathy and promote participation in local and global communities?'" Short uses these complex questions to both discuss classroom content and make connections to the world outside the classroom.
From there, Short says, she allows students to conduct research, craft speeches, and call their peers to action based on their deeper understanding of these questions. "Consistently making these connections helps create a climate in which students become accustomed to questioning everything," she says.
CHARLOTTE COUNTRY DAY SCHOOL
The next part is important. When students are invited to share their own questions and thoughts, it can be easy for them to feel intimidated. After all, sixth grade isn't the most-forgiving age in terms of maturity and empathy. That's why creating the right climate for questioning is crucial. Short says she creates a "low-stakes environment in which students are reassured that they don't need to know all the answers, and their participation is only used to help me determine what they need help with.""I also directly model strategies by sharing my metacognitive thinking (thinking about thinking) as I read literature, analyze ideas, and discuss current events," Short continues. "I allow time to stop and share my thinking and my questions, and then invite students to share their thinking and questions as well."
She says, "They're welcome to ask questions about questions and are encouraged to develop questions that challenge them to consider various perspectives."
The Core Values to Daily Questioning with Your Child
CHARLOTTE COUNTRY DAY SCHOOL
Interested in fueling your child's curiosity at home? Try some of the tactics Short uses in her classroom. "Providing daily opportunities for questioning builds confidence in students' abilities to craft their own questions," she says. In the classroom, she'll use the time during reading breaks to allow students to write down their questions about the material and discuss with their peers. This type of atmosphere—practicing questioning and, sometimes, disagreeing—facilities civil discourse about individual ideas and beliefs.
Core Values for a Healthy Culture of Questioning
To guide this questioning and keep it respectful and productive, Short establishes a few core values for the students to follow from the very start. Try helping your child understand these ground rules when exercising curiosity at home.
1. Lead with facts. Use facts to back up your ideas, and hold others accountable for doing the same.
2. Disagree with compassion. When disagreeing with someone, take time to consider their point of view before responding. Use facts to explain why you disagree, and never attack anyone personally.
3. Take your time. It is always OK to pause and think about what you want to say. Don't be uncomfortable in the silence—embrace it as an opportunity to formulate your thoughts.
4. Strive for growth. After creating, asking, and answering questions, take time to reflect on what new ideas you heard, whether anything changed your mind, what you're curious about, et cetera.
Example Questions to Consider
Throughout their time in Short's class, students are challenged to practice their speaking and listening skills and engage in complex conversations while digging into their own interests. Much of this process begins with a few sample questions geared towards the literature and reading materials covered throughout the year. "Students use these questions as examples and also as a starting point to think about what is important when considering a situation in fiction, history, or their own lives," she explains. See Short's example questions she uses to spark deep thinking.
How does this situation make me feel?
What are the various perspectives in the situation, event, or story?
What facts support the different sides?
What side do you agree with? Why? (Use facts to support your opinion.)
Why might someone have a different viewpoint than you?
How can progress be made toward improving this issue? How can you be part of the progress?
Why a Culture of Questioning Matters
CHARLOTTE COUNTRY DAY SCHOOL
"Students held various viewpoints about those topics," she explains, "but it was inspiring to see them honor the feelings of their classmates and ask questions to better understand the ideas of others.""Recently, my sixth-grade students studied Hammurabi's Code," Short says. "I asked them to consider whether his laws were just. When given an opportunity to ask and answer each other's questions about this topic, they were able to see both sides of the argument and then discuss where they see injustice in the world today… They brought up topics such as police brutality, the pay gap for women, separating immigrant children from their parents, kneeling during the national anthem, and Confederate statues in public places."
"Through consistent practice and opportunities to contribute meaningful questions in the classroom, all students begin to naturally and independently generate questions about what they read, hear, and encounter," Short says.
As children learn to generate questions, they also discover that they have the power to inspire progress in their world, and that's what makes this practice so important. Though many parents may hope to establish such a culture at home, it is understandable that time does not always allow for deep, meaningful conversations. That's why it's important to enroll your child in a school such as Charlotte Country Day—where forward-thinking curriculum ties into real-world situations, inspiring the leaders of tomorrow. Learn more about Charlotte Country Day School's innovative curriculum for students of all ages.