Kids Helping Kids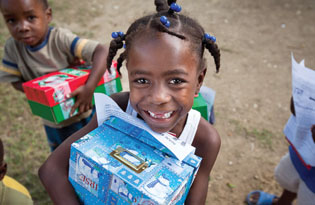 Sorting through the mail one day, Lee, a Charlotte mom came across a dirty creased envelope bearing a foreign postage stamp. It was addressed to her 10-year-old daughter and postmarked four months earlier in Zambia, Africa.
In surprise and excitement, she called her daughter and together they opened it. Their Operation Christmas Child shoebox — lovingly packed with toys, school supplies, candy and a handwritten note — had found its way to an 8-year-old African orphan named Jasinta. Now they marveled to read her reply and see her adorable, smiling face in a small, blurry photograph.
"That experience changed my child," Lee says. "It put life in a different perspective. A child in the United States and a child in Africa, touching one another's lives! That's a personal, and very powerful, global connection."
A Warehouse Comes to Life
Kids helping less fortunate kids — that's the essence of the world's largest Christmas project known as Operation Christmas Child. A division of Samaritan's Purse, the human relief organization headed by Franklin Graham, the project's epicenter is right here in Charlotte.
Last year, more than eight million shoebox gifts were delivered to children in poverty-stricken and war torn areas in more than 130 different countries. Between Thanksgiving and Christmas, thousands of volunteers from across the U.S. bring the warehouse to life, a scene reminiscent of Santa's workshop.
Family Holiday Tradition
For many families this volunteer opportunity is a beloved holiday tradition. Mark and Judy Angel of Charlotte have put together shoeboxes with their four children for more than 15 years.
"Volunteering with OCC is a meaningful way to prepare your heart for Christmas," Judy says. "It's a powerful experience to work there alongside your teen, hearing real stories of those who received boxes, learning how they met a specific need. You realize it's more than a box of toys. God uses them to give hope."
Like the Angel family, thousands of individuals, business, church and civic groups sign up months in advance to volunteer in a processing center. This year a nationwide call center opened on August 1 and within hours, all slots for this season were filled.
How to Get Involved
While volunteering in a processing center isn't an option, it's not too late to donate time at a collection site or pack shoeboxes. Consider hosting a packing party before collection week, Nov. 14-21To find out how to pack a shoebox, go to www.samaratinspurse.org.
The Journey of a Box
Your child can track his or her shoebox from the warehouse to its final destination —whether the gift ends up in the hand sof a child in Tanzania or Romania.
To follow your box, make your shoe box donation ($7/box) online and include your email address. Your receipt will contain a special label with a unique barcode. Download it and attach the label to each box shipped. You will receive email notifications as your box makes its journey. What a great way to teach your child about our world.
Through Operation Christmas Child, Carolina families are making a difference, sending gifts of love to the world.
"It's a ministry of multiplication. God uses one box to impact a whole sphere of influence," says Carolinas Regional Manager Jennifer Davis. "Children are helping children all over the world, sharing the love of God."
Terri Foster is a freelance writer and mom of four in Matthews. Read her blog at www.BE-ingabettermom.blogspot.com
Family Day Nov. 19. The Charlotte processing center will provide an interactive experience that simulates the journey of a shoebox and recreates the typical life of a need child on the other end. Ages preschool to teens. Reservations required. 704-583-1463. 7100 Forest Point Blvd.
?