Kids Can Create "Fortnite-Style" Video Game, Learn Adulting 101 and Robotics at These Interactive Summer Camps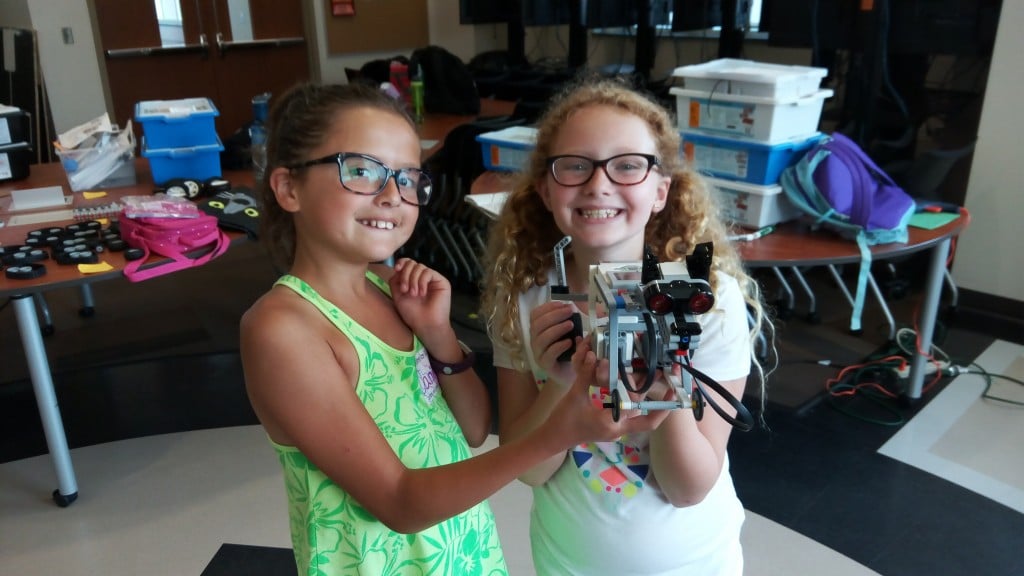 Kids Can Create "Fortnite-Style" Video Game, Learn Adulting 101 and Robotics at These Interactive Summer Camps
For summer 2019, UNCC's interactive Camps on Campus feature more than 50 camps for students entering first through twelfth grade, with highlights including Robotics, Adulting 101, and video game coding camps.
As summer months creep onto the family calendar, parents begin their annual panic—What is my child going to do for almost three months while I'm at work?
It's no secret that it can be tough finding worthwhile activities for your child to engage in during the summertime—as much as you might wish kids could just play outside all day as you did in your younger years, the truth is, technology has changed all of that.
But what if you could enroll your student—aged anywhere from first grade to twelfth grade—into a summer camp that would not only keep them busy but actually entertained, too? You'd ask, "Where do we sign up?" right? Well, we'll tell you! The University of North Carolina at Charlotte (UNCC) hosts Camps on Campus each summer, and these interesting, interactive camps invite students of all ages to come to the college campus and take part in a variety of fun activities. One Charlotte parent calls this camp "the most well-run, robust, and fun summer camp experience in Charlotte." Another notes, "Pick-ups and drop-offs were very easy and very convenient for someone with a full-time job."
Although fun is guaranteed at UNCC's Camps on Campus, let it not be forgotten that academic enrichment is also part of the bargain. All three age groups have access to a variety of educational camps that can help them further their learning during these "off months" while their classmates may be falling behind. Plus, what better way to learn than by fostering new interests and friendships in the process? Imagine how proud you'd be if your fourth grader came back from summer camp speaking basic Chinese! This is just one of the many academic enrichment scenarios that can be possible with summer camp at UNC Charlotte.
Starting on January 29, 2019, you can register for Camps on Campus. Or, if you want to get a head-start before Jan. 29, you can fill out your student's safety and medical information ahead of time.
Though putting younger kids in camp over summer is often a no-brainer, parents may forget that they can register high schoolers for camp, too. That's one of the things that makes UNCC's summer program so great. Well, that, and the awesome camps they're offering this year. Surely, you've heard of Fortnite?
Creating Fortnite-Style Game & Other Highlights of the 2019 UNCC Camps on Campus
Below, we've provided a rundown of each of the UNCC camp offerings for all three age groups so your family can be ready for registration when it opens on Jan. 29. Niner Academy is for high schoolers, 49er Minors is for students entering fifth through eighth grades, and Cool School offers camps for children entering grades one through four. According to Charlotte-Mecklenburg Schools, the last day of school this year is June 9. UNCC's Camps on Campus start as soon as June 10!
Niner Academy Highlights — Camps for High Schoolers
Get your high schooler excited about summer camp at UNCC by going through all of the great camp options with him or her. The Camps on Campus team has developed fantastic camps in their Niner Academy that will appeal to all kinds of rising ninth, tenth, eleventh, and twelfth graders—ask your student about his or her interests over dinner to carve out a summer full of educational fun. You can view the full Niner Academy 2019 summer schedule, or check out some of the specific camps below. Each of these is designed to be a great college application- or resume-builder.
Code Your Own Adventure & Virtual Reality

Mostly working in pairs or teams, students will learn how to create their own text-based adventure games with variables, conditional logic, images, HTML, CSS, and JavaScript. Additionally, in the Virtual Reality portion of the camp, students will learn the foundations of VR design by creating their own virtual worlds, exploring simulated environments, and crafting memorable 3D experiences. At the end of the week, they can take home their first cardboard VR headset to show friends and family the new worlds they've created.

Adulting 101

Designed to teach teens the essentials of "adulting," being successful and self-reliant in the real world, students will learn how to change a tire, sew a button, create and follow a budget, and other essential life skills.

App Attack!/App.IO: Make Your First Multiplayer App

Working in pairs, students will get to customize their own game app! Using a specialized app and game development tool, students will explore the world of web-based (HTML5) mobile apps. In addition to learning the basics of mobile app design and game development, they will also see firsthand how the world of app publishing functions. Student-created apps will be accessible on a private site and can be played on any mobile device or computer.

Introduction to Chinese for High Schoolers

Taught by experienced native speakers of Chinese, this summer camp will teach teens the basics of pinyin (the Chinese phonetic system), phrases and short sentences for daily greetings, family introductions, numbers and dates, hobbies, and more. Students will also be introduced to the Chinese curriculum offered at UNCC to prepare them for post-secondary language learning. Additionally, the camp will enhance students' experiences through hands-on activities such as Chinese calligraphy, painting, and a field trip to a Chinese store.

Illustration & 3D Printing: Professional Art & STEM

Hosted by the UNC Charlotte Department of Art faculty, this camp will expose students to both hands-on and digital tools. Students will be introduced to basic illustration techniques as well as learn the basics of 3D modeling as a creative tool. Finished designs will be brought into physical reality through 3D printing.
49er Minors Highlights — Camps for Rising Grades 5-8
The 49er Minors camps for the middle grades are UNCC's newest offerings, and the instructors are mindful to adapt the curriculum to be age-appropriate while still educational and fun. Below are some highlighted camps. You can also view the full 49er Minors schedule.
3D Game Labs with Unity/Battle Royale: Make Your First "Fortnite-Style" Video Game

With Unity, an industry-grade design software, aspiring game designers will learn level editing, 3D modeling, impactful gameplay creation, as well as how to utilize scripts and variables. Student-created games will be available on a password-protected website to share with friends and family. Students will work in pairs or teams for most of the program. Returning students can create more advanced projects that build on previous years. Note: Students will not be playing Fortnite, but instead learning how to make a similar game with cartoonish action and battle sequences!

Zombie Outbreak and Survival Camp

This fun, interdisciplinary camp experience combines lessons in biology, health, medicine, science fiction and character development, rebuilding civilizations (from real, historical perspectives), first-aid training, teamwork, goal-setting and problem-solving, outdoor survival skills, archery training, and more.

Culinary Camp

Could your child be the next MasterChef Junior? In partnership with and led by UNCC Dining Services and Chartwells, this camp will combine instruction in nutrition, ingredients, and recipes, plus the campers will cook or bake a dish each day in the school's own Bistro located in the Student Union. Students will create their own take-home recipe books to document their creations.

Camp Hogwarts for Harry Potter Fans

Muggles, beware. This Harry Potter-themed camp will combine literary analysis, creative writing, Harry Potter-inspired science and magic experiments, crafting, acting, and "house" team competitions.

Robotics 101

"My son enjoyed being busy throughout the day," one parent recounts. "He normally attends camps at the Y, and there is a lot of 'downtime' and breaks. And while that may be necessary for an outdoor/active camp, he liked that the robotics camp kept him busy all day." This camp allows students to create moving robots using Legos.
Cool School Highlights — Camps for Rising Grades 1-4
The Camps on Campus for the youngest group of students are focused on hands-on, active learning, and exploration. Of course, there will be plenty of time for making new friends and getting outside the classroom as well! All of the instructors are assisted by the incredible camp counselors both in and out of the classroom, ensuring your child's supervision and safety. Check out some of this year's highlighted camps below, or view the full Cool School schedule and offerings.
"Shark Tank" for Kids

Designed for campers who have great ideas and a streak of creativity, this camp will involve problem-solving, designing, creating, and selling their ideas and inventions to one another. Instructors will discuss some business and marketing techniques, as well as commercialism, buying and selling, consumer reports, and more.

Make Your First Video Game & 3D Game!

Kids who love video games will have a blast with this class, where they can make their first video game. Students will learn the keys to designing their first 2D platformer game. Conceptualization, play experience, level design, graphics, sounds, and simple coding are just some of the concepts that they'll explore. No prior experience is necessary, just a desire to have fun. Student-created games will be available on a password-protected website to share with friends and family. Students will work in pairs or teams for most of the program. Returning students can create more advanced projects that build on previous years. Students will also learn the ins and outs of creating their first 3D game as well.

Musical Theater

Dance, music, acting, and educational themes combine with the annual musical theater production. Though, a Charlotte parent may describe this camp best: "The musical theater week was wonderful. The instructor was knowledgeable and excited, and the counselors did a great job with the kids. They were the best part of camp this summer."

Introduction to Chinese for Elementary Students

Through diverse classroom activities and authentic reading materials, campers will acquire basic knowledge of spoken Chinese. They will also fully experience the fantastic Chinese culture. In addition to learning basic Chinese phrases, students will also gain hands-on experience of traditional Chinese culture by practicing calligraphy, painting, paper-cutting, Peking Opera masks, and the like.

Harry Potter Adventure

The world of Harry Potter is filled with artistic creativity, chemistry, magic, house competitions, and fun with literature and words. This camp will unite language arts, science, and teamwork each day all brought together with Harry Potter themes.
Registering for UNCC's Camps on Campus for Summer 2019
Do you have a few camps in mind? Is your child excited to learn new skills and meet new friends this summer? Registering for camp is simple. You can either register online or call the registration office at 704-687-8900. Online registration for the 2019 summer Camps on Campus opens on January 29, 2019, and it is recommended to sign up for your desired camps as soon as possible; popular camps will fill up quickly!