KID-FRIENDLY RECIPE: Bruce Moffett's Pepperoni and Sausage Pizza
He often makes this tasty take with his 11-year-old son, Daniel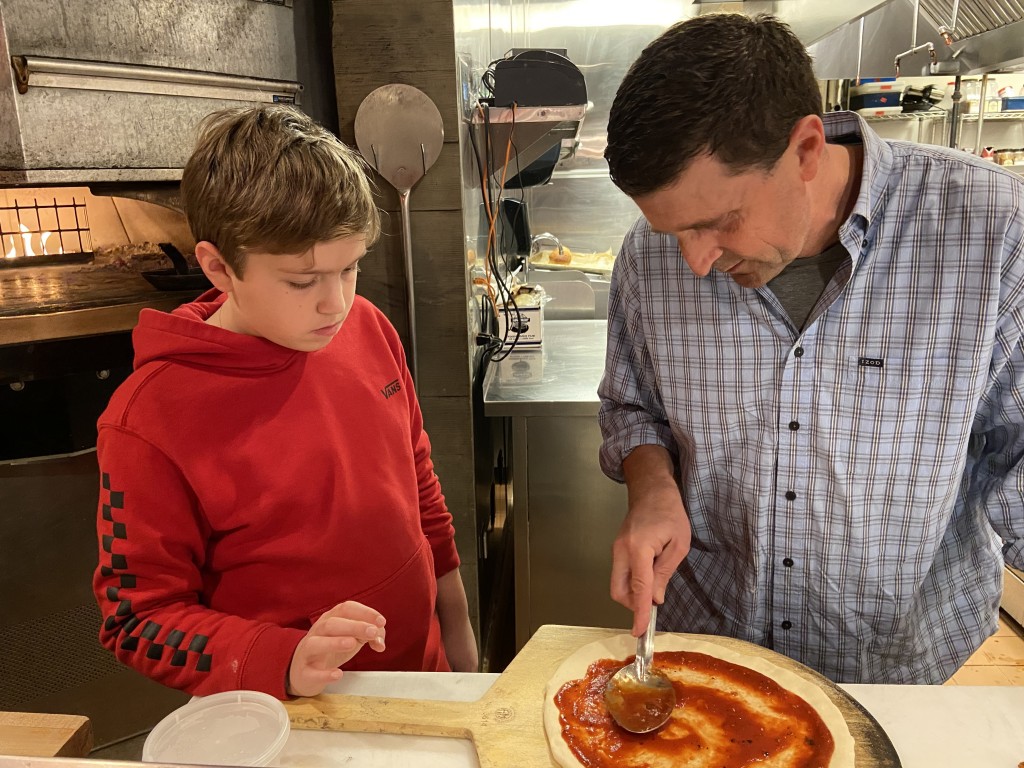 Stagioni's signature pizza is a perennial favorite at the Myers Park restaurant, but it's a fun meal you can prepare at home with the family, too. Chef Bruce Moffett often makes it with his 11-year-old son, Daniel, as sous chef. If you don't have access to the Stagioni kitchen's wood-fired oven like this duo, you can still bake a fantastic pie in your conventional oven. Follow Moffett's recipe to make four 10-inch pizzas at home—and don't skimp on the toppings.
SPECIAL EQUIPMENT: pizza stone (optional), pizza peel, or wooden cutting board
INGREDIENTS:
2 cups fennel sausage or store-bought ground sausage
1 tablespoon extra virgin olive oil
1 batch Stagioni pizza dough
1 batch Stagioni pizza sauce
2 cups freshly grated mozzarella
Pepperoni slices, preferably ½ inch diameter
1 teaspoon chopped oregano
1 teaspoon chopped rosemary
1 teaspoon chopped parsley
DIRECTIONS:
Place pizza stone in the oven and preheat to 500˚. Shape the pizza dough into four 10-inch rounds.
In a large skillet, crumble the sausage and brown it with olive oil over medium-high heat until fully cooked, about 5-7 minutes. Let the sausage cool for 15 minutes, then drain fat from the sausage and reserve.
Dust a pizza peel or wooden cutting board with semolina and set one dough round on top. Ladle 1/3 cup sauce on the dough center. Working from the center outward, spread the sauce evenly, leaving ½ inch edge.
Add ¼ cup of the sausage, then top with mozzarella. Ass enough pepperoni to cover the pizza, about 30 slices.
Bake the pizza for 7 to 9 minutes, until the fat has rendered from the pepperoni and the crust is lightly golden.
Finish with a sprinkling of herbs.
Repeat the process with remaining crusts.