Keeping a Family Fit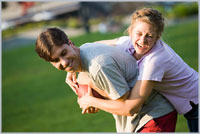 Many families struggle to find the time to be together and exercise. A few moments of playful activity and fun as a family can give everyone a boost of energy. It doesn't have to be painful or time-consuming.
"It is important to exercise and play together as a family. As a parent you are your child's role model so if you engage in physical activity your child will also want to be active," says Megan Dean, Program Coordinator for Fit City for Fit Families.
"Set a family activity goal and watch how the fun grows," says Dean. "By engaging with your children in healthy activities, you'll build relationships and memories that will last a lifetime and you will stay fit as a family!" she adds.
In addition, playing and getting exercise together as a family allows children to:
Develop confidence they will need to face future challenges; share, negotiate, and resolve conflicts; discover areas of interest with passion; engage and interact with the world around them; build active, healthy bodies.
Though the primary focus is often on the children, exercising together has many benefits for parents too. It allows parents to: Engage and communicate with their children; offer guidance and model appropriate behavior; understand their child's views and experiences; spend quality time building long-lasting memories.
2010 will see many trends with respect to exercising. One particular trend which appeals to many families is Exergames. The combination of exercise and games, this trend will continue to climb in popularity and be taken to the next level: fitness clubs. By integrating fitness-based video games into their programming, clubs will offer unique exercise sessions for game-lovers and those looking for variety within their workouts. Studies conducted by the American Council of Exercise (ACE) on exergaming-type systems, including Nintendo's Wii Sports and Wii Fit and the PC-based Dancetown, offer insight into the true fitness benefits associated with these alternative fitness options.
Whatever means of exercise your family chooses; know that it has benefits on many levels. Being with one another during playful times as well as challenging times helps expand ties and family bonds. Remember, the family that plays together, stays together!