Keep Your Home Healthy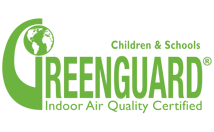 Did you know that indoor air can be up to 5 times more polluted than outdoor air? That's pretty scary considering the precious loved ones we share our homes with! One reason air quality indoors is so poor is because of all the chemicals that are used in manufacturing our building materials, paints, flooring, and furniture. These products release harmful gases that can lead to or aggravate asthma, allergies, autism, cardiovascular disease, reproductive issues, and even some cancers. Since children's immune and neurological systems are still developing these pollutants can be even more dangerous.
One way to protect your family is by making sure that the products and furnishings you bring into your home are Greenguard certified. Greenguard is a third party company that tests products for over 10,000 volatile organic compounds that can cause indoor air pollution. Make it a habit to check the manufacturer's label when replacing your flooring, furniture, or repainting. Any company that submits to testing will proudly display proof of passing Greenguard's strict testing procedures.
Other ways to make sure your home is healthy is by keeping it dry to prevent mold and mildew, keep it clean with non-toxic cleaning products, and keeping smokers outside. What tips do you have for keeping your home healthy?
Barbara Green believes you CAN have it all: kids, pets, and a beautiful home. She is the owner of Sensibly Chic Designs for LIfe and host of Ask the Design Diva radio show and insists you don't have to spend a million dollars to look like you did!