Join the Club! 5 Island Kids Clubs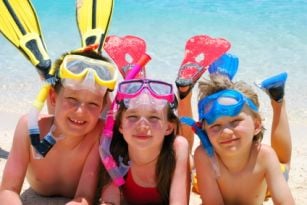 With more hotels adding kids' programs these days, we took a look at some super destinations with children in mind. Here are our top choices for island family resorts with Kids Clubs that pass the test! Caring staff, cultural adventures and exciting diversions await young vacationers, while stressed-out parents relax with peace of mind.
Atlantis Kids Club
Atlantis Resort
Paradise Island, Bahamas
www.atlantis.com
888-528-7155
The warm Bahamian breezes and smiling local faces invoked memories of a trip 20 years prior, but as we crossed the bridge to Paradise Island, I noticed a change in the landscape – the outline of Atlantis. Its buildings tower over the sprawling resort's 10 pools (four especially for kids), quarter-mile-long lazy river and 63-acre water adventure. With Atlantis' marine habitat, home to at least 200 marine species ranging from tropical fish to stingrays to sharks, the resort has enough diversions to entertain for a week, but we were off to join the club.
The Kids Clubhouse at Atlantis has plenty of space inside with themed activity rooms to keep children active and engaged. At check-in, pagers are available for parents in case of emergencies. Within minutes, Crawford, 7, was off to discover the touch tanks, computers and crafts; he joined the groups, divided by age, for the day's activities – indoors and out. Later, he recounted a program filled with non-stop action. They built sand volcanoes on the beach and played monster tag in the pool, before returning to the Club for snacks and computer time.
Saturday night offered a chance to visit Club Rush – the super-cool, Atlantis teen hangout. Here, kids 8-11 gathered to eat pizza, drink cokes and take over the otherwise forbidden teen domain for a few hours before returning to their club house to watch a new release movie. After 7:30 p.m., Club Rush is a supervised lounge where teens (12-17) can surf the net, play video games on all the latest systems, watch movies on a wide screen or dance to a DJ, all under the watchful eye of Club Rush staffers. While he played, I relaxed with a glass of Chardonnay and dined on lobster/crab cakes nearby before pick-up time at 9 p.m. When we returned to our room, he slipped into bed, exhausted, for sweet Bahama dreams.
More Info:
Direct Line: 242-363-3000 ext. 65946
By reservation only. Ages 3-5 must be toilet trained.
Full and half day sessions. Hourly available.
Rates: $45 half-day; $90 full day.
Hours: 9 a.m. to 5 p.m. Closed Sunday.
Kahala Kids – Keiki Club
Kahala Hotel & Resort, Hawaii
Honolulu, Hawaii
www.kahalaresort.com
800-367-2525
The landscape of Hawaii is awe-inspiring with jagged volcanic rock carpeted in green as it looms over the deep blue waters below. The people of Hawaii are warm and friendly. Though the journey from Charlotte to Oahu is long, the experience is worth it with so much to learn about these islands.
Hawaiian culture is a treasured part of island life and the Keiki Club ("keiki" is the Hawaiian word for child) at the Kahala Hotel & Resort on Oahu, is a special place for 5- to 12-year-olds to learn about this culture and its traditions in a safe environment, while Mom and Dad enjoy the world class spa, an invigorating Power Yoga class or kayaking just off-shore.
The Keiki Club is located just off the main pool area, but kids don't stay inside for long. They'll be busy observing the dolphins at the nearby lagoon, scoop-net and bamboo-pole fishing, making sand volcanoes, crabbing, snorkeling and searching for ocean treasure. Keiki Club T-shirts identify the group marching across the sand to another adventure. A break from the sun is the perfect time for making leis, Hawaiian pillows, puppets and other cultural crafts inside the Club room.
The hotel continues a kid-friendly experience beyond the walls of the Keiki Club with a "Passport to Fun," presented to children on arrival. Kids fill the passport with stamps for each experience and redeem it for prizes on departure. Paradise is for kids, too!
More info:
Reservations are recommended but not required. Walk-ins are welcome.
Full and half day sessions.
Rates: $35 half day; $65 full day. Lunch available.
Hours: 9 a.m. to 4 p.m. Daily
Kamp Kiawah
Kiawah Island Resort
Kiawah Island, S.C.
www.kiawahresort.com
800-576-1570
The languid pace of Southern hospitality is the charm of Kiawah Island Resort. I never tire of the beauty in this South Carolina locale, and luckily this award-winning family resort offers more than just a place to drop off the kids while the parents relax at The Sanctuary or golf on nearby championship courses.
Kamp Kiawah, located in the 21-acre Night Heron Park, is a mix of daily themed activities and an abundance of nature to keep kids active and interested. Resort counselors are dedicated to your children's safety and fun. Depending on the day, kids may play pirate beach games and hunt Blackbeard's treasure or get "Nutty About Nature" with crab races, animal tattoos and bug hunts.
Kamp headquarters, located near the pool, is a spacious open-air structure where the kids can relax out of the sun. On our visit, Crawford joined campers shooting some hoop, while others did a craft. If you're looking for an evening diversion, Kiawah "KNO" (Kids Night Out) runs from 5-8 p.m., and is especially designed for kids 5-11 years old with American Idol karaoke and a talent show for hamming it up.
The unique mix of coastal beauty, woodland nature, luxury accommodations – and local proximity – make this island retreat an easy choice for kids and adults.
More info:
Direct Line: 843-768-6001
By 24-hour advance reservation only. Children must be potty-trained.
Half and full day sessions.
Hours: Closed Mondays.
Spring and Fall 8:30 a.m.-12:30 p.m.
Easter and Summer 8:30 a.m.-4 p.m.
Staff to child ratios: ages 3-5, ratio is 1:5; ages 5-7, ratio is 1:8, ages 8-11 ratio is 1:12
Kids Kamp
Beaches
Providenciales, Turks & Caicos
www.beaches.com
888-BEACHES
This Caribbean island is home to the most beautiful white sand beaches in the world and turquoise water to match. Providenciales, Turks & Caicos, remains a favorite beach location, for its unspoiled beauty and Beaches, an all-inclusive resort, is a pro at accommodating families.
The title of "Best Supervised Kids Program in the Caribbean" is some claim, but many agree, they are experts at the kids club concept. The staff are trained in child development and certified to handle several age-based programs with scheduled activities for children 0-5, 6-7, 8-12, and teens, 13 and older. Beaches offers supervised time for all ages – even infants and toddlers in diapers.
Kids Kamp programming for the school-age set includes glass-bottom boat rides, movies or teen targeted karaoke disco. There's even a structured Sesame Street program for the tiny ones. Beyond the Kids Kamp culture, Beaches works hard to cater to kids and family with Crayola at the Beaches, an arts program sponsored by the well-known brand; the Xbox Oasis, a hot spot with the latest in game technology; and the Pirate Island Waterpark at the Turks & Caicos location. Parents can relax, knowing kids are having the time of their lives.
More info:
No reservation required
Custom sessions. Infants and toddler programs.
Rates: Included in package
Hours: 9 a.m.-9 p.m. ages 6-17; 9 a.m.-6 p.m. ages 0-5
Yellow Bird Kids Club
Franklyn D Resort and Spa
Runaway Bay, Jamaica
www.fdrholidays.com/fdr
888-FDR-KIDS
Jamaica gets in your blood, and some families never even consider another destination after vacationing here. The beaches rival the Carolinas' and the addition of aquamarine seas, year-round warmth, palm trees and jerk cuisine, as well as the "no problem, mon" attitude, make it irresistible. With direct flights from Charlotte to Montego Bay, most destinations are reachable in half a day. The all-inclusive FDR resort is small enough to have an intimate feel, but large enough to offer activities to suit every member of the family.
The Kids Club is the hub of activity for children, with its own playground, arts and crafts center and paddling pool, along with activities like shell hunts on the beach and tie-dye classes. While having fun, children will learn about life on a Caribbean coral reef, enter a talent contest, participate in swimming lessons, make a tie-dye outfit and learn about Jamaica. A schedule of activities is posted each day and kids can opt in and out as they wish. The Teens Programme offers older kids a computer room, games room, disco and sports activities – even a Teen Scuba Diving Adventure.
Night-time programs and special meals for kids allow parents to dine at a beachside table, knowing they're just a shout away, if needed. Oh, and did I mention there's a NANNY for each family who makes sure your child gets to and from activities or takes your toddler or infant all day or just for a break, as needed?
More info:
No reservation required
Rates: Included in package
Hours: 7:30 a.m. to 10 p.m. daily
Questions to Ask
Can I drop-in at any time to see how things are going?
Parents should have the right to check in at any time. Expect some restrictions. Random drop-ins by each parent would be very disruptive to the camp experience. As a safety precaution, no adults (including parents) should be allowed to pass the sign-in desk, unescorted.
What is the ratio of staff to kids?
The two-person rule should always apply. And a reasonable staff to child ratio is important.
How are staff screened, selected and trained?
At some kids clubs, we found staff with child-development education or camp counselor experience. Staff should also be trained in CPR and water safety. Ask about reference and criminal background checks.
How will I be contacted in case of emergency?
Since cell phones may not work in some destinations, a pager assures you can be reached if something happens.
What areas of the resort will my child's activities cover?
Field trips can be a part of the Kid Club experience. Always ask if your child will leave the immediate resort area. The counselors should have a fixed agenda for the day.
What about food allergies?
If your child has allergies, this is important to consider. Ask if peanut products are banned from the premises. Other, less common food allergies will need to be discussed. Some resorts offer wrist bands to identify kids with special diets.
Eve White is editor of Charlotte Parent.