Join the 100-Mile Challenge With North Carolina State Parks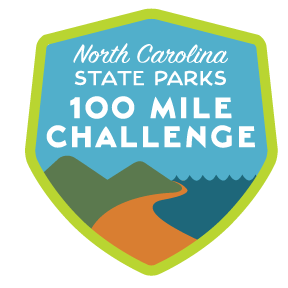 Spring is the perfect season to join the 100-Mile Challenge, a health and wellness program that encourages citizens to complete 100 miles of hiking, biking, walking, running, paddling, skating, rolling their wheelchairs or riding their horses within North Carolina State Parks.
The program, first launched in fall 2016, aims to showcase the state's naturally wonderful trails and waterways, including nearly 1,500 miles of hiking trails across the state and more than 660 established miles of the Mountains to Sea State Trail.
Recreational activities on state trails and in state parks range from common pastimes like hiking, paddling and biking to horseback riding, swimming and birding. The challenge offers a new way to set goals for exercise outdoors for a broad range of activities.
"This program connects North Carolina's state trails and state parks to the goals and activities of our citizens and visitors," says Mike Murphy, director North Carolina State Parks. "Setting goals and getting outdoors to experience the best of North Carolina's natural environment brings people together while improving their health and establishing good habits. I'm thrilled to see our parks and trails enjoyed this way."
Outdoor enthusiasts and beginners alike are encouraged to sign up for the program at nc100miles.org. Users can keep track of their miles as they progress toward the 100-mile goal and earn digital badges along the way as they explore state parks, participate in events and reach mileage targets. Participants can also earn prizes at 100, 200 and 1,000 miles logged. More information of the challenge is available at nc100miles.org.
The 100-Mile Challenge is funded by Blue Cross and Blue Shield of North Carolina and managed by North Carolina State Parks.
---
Source: North Carolina State Parks