Jimmie Johnson: A Dad's Big Lesson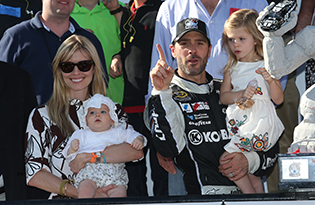 "More than anything, have a kind heart."
This is the biggest lesson Jimmie Johnson wants to teach his daughters. He lists other values that he instills in Genevieve, 4, and Lydia, 1. Values like honor, integrity and morality. But Johnson insists that all values spring from kindness of heart.
It's a lesson better shown than taught. Johnson's generosity of time, attention and resources set an example of kindness of heart, and it's not just Genevieve and Lydia who are learning Johnson's lesson.
The Bliss of the Ordinary
The preschool carpool line may be a surprising place to find Johnson behind the wheel. Then again, this is Charlotte. Of the 15 cars in this line, Johnson is one of three professional drivers. Jeff Gordon and Casey Mears: they're here, too. When asked if there is friendly competition in getting the kids in the door first, Johnson laughs. We're all pretty mellow.ヤ
There are the big moments of parenting, moments created in order to remember: faraway trips, big parties. But then there are small moments of routine ラ like waiting in the carpool line ラ that are too easily unappreciated. Johnson, trained for speed, prioritizes slowing down to appreciate small moments.
モI love taking [my daughters] to school, going to their music classes, swim classes. It gives me some great moments with them.ヤ
While most dads might not relate to a six-time NASCAR Sprint Cup champion, Johnson's plight is familiar: between work, family and hobbies, time becomes a race.
モI've never been a regimented person, but working on a schedule helps me,ヤ he says. モIt helps me appreciate moments … It started with the kids' napping and eating schedules, and it went from there. It helps us carve time for family time, for work.ヤ
The moments his family enjoys are familiar to Charotteans: afternoons at Freedom Park, and dinners at BrickTop's or Mellow Mushroom. And Johnson's gushing will sound familiar to proud dads everywhere.
モI thought I knew what love was, but then my daughter was born, and it went to a whole new level that I had no idea existed,ヤ he says. モAnd I was a little concerned about having our second ラ is there room for more? And sure enough, there's a whole new level that opens up.ヤ
And yet even another level exists to Johnson's generosity of heart.

Jimmie Johnson with his wife Chandra, and daughters Genevieve, 4 and Lydia, 1. Photo courtesy of jimmiejohnson.com.
Nurturing Growth
It's a bright April morning at Garinger High School in east Charlotte. In the school's garden, rows burst with broccoli and cabbage; zucchini seedlings peek from the soil, ready for their turn.
Between 80 and 90 percent of the students here live below the poverty level. This neighborhood is a food desert, lacking proper access to fruits and vegetables. But thanks to a $50,000 grant from the Jimmie Johnson Foundation, an outdoor kitchen will soon grace this garden. Here, students will learn to prepare fresh foods and share meals. From here, they will take produce and recipes home to their families. This lesson in slow food comes courtesy of a fast driver.
"My wife and I came through the public school system … And the public school systems in those areas, like everywhere, are so far behind on budgets. They're cutting programs that we really enjoyed, like the arts and physical activity. So we wanted to make a difference."
Johnson and his wife Chandra Johnson created the Jimmie Johnson Foundation, which has contributed $7.7 million to projects in K-12 public education since its 2006 launch. Last year, it awarded grants to five Charlotte-area schools, funding projects like the outdoor kitchen, a computer lab and a running track. The grants also give a confidence boost.
"I always tell the kids that Jimmie Johnson and his foundation thought that this project was so important that they gave us the money to do this," says Bobbie Mabe, Garinger's Title I Family Advocate. "Just knowing that someone thought that their program was important, that's a really special thing to them … People care. And they know that."
Johnson is also part of the Ban Bossy Campaign, devoted to encouraging girls' self esteem. The campaign seeks to dismiss the double standard that hails strong boys as leaders, yet dismisses strong girls as bossy.
"Being a father of two, I'm trying to develop these young ladies into leaders. I took plenty of flack for [joining Ban Bossy], especially on the social channels … And at first I got upset about it, but then I thought, maybe I got someone to think about this. Maybe it started a discussion."

Jimmie Johnson runs with wife Chandra Johnson and daughter, Genevieve in the Jimmie Johnson Foundation Family Fun Run.
A Father's Lesson
Like many dads, Johnson says he's "learning as he goes," and bemoans that there's no dad handbook. But his generosity of heart is teaching fatherly lessons that reach farther than his home.
This generosity of heart reaches two little girls, of course, who have a dad who's one of the most overqualified carpool drivers. It reaches the students of Garinger and beyond, who enjoy new resources and know they are valued. And it reaches girls who learn that they, too, should be leaders. All of these moments, big and small, are enabled by a father's big lesson:
"More than anything, have a kind heart."
Jen Tota McGivney is a freelance writer living in Charlotte.