It's a Jungle in There!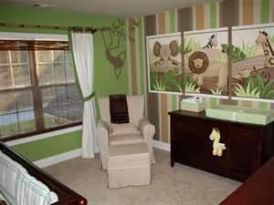 Is there a baby in your future?  Are you looking for a nursery design that will suit either boys or girls? Jungles are the way to go! This jungle nursery at the left is the most popular photo on my entire Ask the Design Divablog. I get requests for the paint colors and artwork on a regular basis. However, there are lots of other options for a jungle themed nursery.
You can go a similar route as the above nursery and have a custom painted mural depicting whichever jungle animals are your favorite. When decorating with a dramatic mural such as this, I recommend keeping all the other elements of the room simple, so that the mural takes center stage.
Another option would be to get bedding that has a jungle theme, but having the paint be a more simple backdrop. You can stick with a single color from the fabric, or choose to do some stripes using two or three colors, as shown in this photo.
If you want to add graphics without the expense of custom painting, repositionable wall decals of jungle animals and trees are an affordable option. They are foolproof, since you can move them around if you don't like where you placed them or if you decide to change the furniture arrangement. 
For those of you who are seeking a more sophisticated look for their child's nursery, here is a monochromatic jungle theme that is elegant and fit for royalty!
Which jungle style nursery is your favorite? I'd love to hear from you!
Barbara Green is the owner of Sensibly Chic Designs for Life, located at 830 Lamar Avenue in Charlotte, NC  and the host of Ask the Design Diva radio show. She believes you CAN have it all: kids, pets, and a beautiful home.