Is Your Living Room Wasted?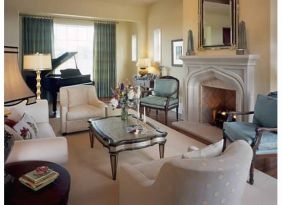 Do you get frustrated every time you walk past your unused formal living room? Do you wish you weren't wasting so much valuable space in your home? Do you want to go in there to do more than just clean? If you answered YES to one or more of these questions, this post is for you. I have 5 ideas for making better use of your formal living room's wasted space.
Family Game Night – Why not repurpose your living room as your "Game Night Room." and make game night a special ritual that everyone in the family can look forward to. Replace your formal cocktail table with a storage ottoman which can store the games and serve as your game table. It will give the formerly formal room a much more comfortable and relaxed feel.
Home Office – This is a great use of a formal living room, particularly for those who work from home. If you need to meet with clients, they can come right in the front door and be served. You won't have to worry about bringing them through potentially messy "family areas." If household noise or privacy is an issue, it is easy to add french doors to close off the room without blocking it out completely.
Library and Reading Room – Most homes have the TV in the family room toward the back of the home. This leaves the formal living room a quieter, more suitable space for a library and reading room. You can line one wall with ready-made bookcases or have custom built-ins, whichever suits your budget. Add a couple of comfy reading chairs, reading lights, and a table for extras and you can escape into your favorite book with ease.
Music Room – During Victorian times a music room was standard in most homes. If you have children that are learning to play an instrument, or if you enjoy listening to CDs without competing with the television, a music room may be the perfect use for your wasted space. 
Dining Room – Many living rooms offer more space than their dining room counterpoints. If your dining room gets overwhelmed by the size of your extended family, trade spaces and make the larger living room a more accommodating dining room for large families. The smaller dining room space can then be turned into a cozy library or home office as suggested in ideas #2 and #3.
Every inch of your home is valuable. I hope these tips have inspired you to make the most yours. Let me know if you thought of any other ways to make use of your wasted spaces.
Barbara Green believes you can have it all: kids, pets and a beautiful home. She is the owner of Sensibly Chic Designs for Life and the host of Ask the Design Diva radio show, and insists you don't have to spend a million dollars to look like you did.