Is Your Child Worth $47,000?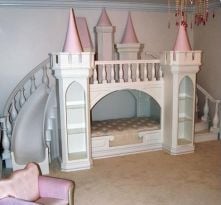 Our children are priceless. They deserve everything in the world and more. But as parents, we are failing if we give it to them. The only thing we should be giving abundantly is our love. I speak from experience, as I lacked no material thing growing up. But did it prepare me for the real world? Heck no! Fast forward a half century and I proudly point to my 2 children who did not have all the financial and material benefits I did growing up, but had more love than they knew what to do with. They now live independently and adjusted to adult responsibilities far easily than I ever did.
I know this is a decorating column, so I will point to the castle bed in the photo to the left. It costs $47,000, which is more than most people make in a year. You can get the "bargain version" to the right for only $22,000, still more than most people's cars are worth! Is your child worth these astronomical prices for beds? Of course! As I said earlier, our children are priceless. As an interior designer would I love to put one of these beds in a child's room? Of course! But as a parent and a member of society I couldn't in good conscience do it.
This is America, you can do whatever you want with your money. But children grow up, their tastes change, and you redecorate their bedroom.  Maybe you can splurge and spend $5000 for an amazing bedroom, and donate simple bedrooms to 20 children just leaving a homeless or battered women's shelter? When the economy tanked in '08 we all learned how to live a little more modestly. Now that the economy seems to be turning around, my prayer is that we will all continue to live in our modest fashion and use the extra to help others less fortunate. The best thing you can do for your children is give them twice as much of your time and half as much materially. Happiness comes from people, not from possessions.
Do you have a charity that might need some help? Are you and your kids doing anything special to help the less fortunate? I'd love to hear about it.
Barbara Green believes you can have it all: kids, pets and a beautiful home. She is the owner of Sensibly Chic Designs for Life and the host of Ask the Design Diva radio show, and insists you don't have to spend a million dollars to look like you did.