Is It Time to Say Goodbye to Your Pediatrician?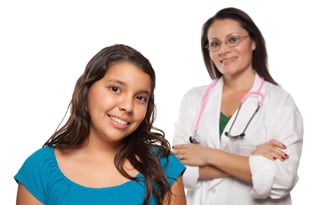 At age 12, my son walked with me into his pediatrician's office for an appointment and we both had the same thought: "It's time to move on." Having hit puberty on the early side, Matt was at 5 feet 8 inches, 125 pounds, and had a deep voice. As much as we loved our pediatrician and her staff, it was time to say so long to the Thomas the Tank Engine wooden track in the waiting room, the Highlights for Children magazines and the tiny chairs.
In our case, we knew Matt was ready to start seeing the family-practice doctor, but for many families, making this decision isn't simple. Here's help.
Making Minor Adjustments
Sometimes, just a small change is needed. A girl with a male pediatrician or a boy with a female pediatrician may gradually become a bit shy about being examined by a doctor of the opposite sex, says Dr. Michelle Perro, a pediatrician in Fairfax, Calif.
"This can happen as young as 6 years old for some girls," says Perro. Often, the solution is to continue to see a pediatrician, but to ask for a referral to a doctor of the same sex, she says. Some kids never mind either way about this issue, Perro says. It all depends on the child.
Also, as your daughter gets older, she may want to stay with her pediatrician for everything except Pap smears and pelvic exams. There's no reason why she can't see a gynecologist in addition to her pediatrician. Perro says it's generally recommended that girls have their first Pap smear and pelvic exam at age 18, or earlier if they are sexually active.
If your child wants to stay with her pediatrician, you should still prepare her – and yourself – for what will be an evolving relationship with the doctor as she gets older. Also check with your doctor regarding whether she will ask important questions regarding sleep issues; caffeine consumption; possible use of cigarettes, drugs or alcohol; puberty and sexual issues; and safety issues, such as use of seat belts and bike helmets, and drinking and driving.
What to Ask a New Doctor
• Will you work with my family's insurance company?
• Do you prefer that a parent be present or not present during examinations? Will my child have a chance to speak privately with you during appointments? What is your policy on patient confidentiality for minors when it comes to issues such as birth control and STDs? (In some states, doctor-patient confidentiality regarding such issues is protected by law.)
• Are you comfortable talking with teens about sexual issues, drug use, eating disorders, etc? And do you do this as a matter of course?
• Do you perform gynecological exams for girls?
• How much time do you allow for office visits for teen patients?
• What information do you need from my child's pediatrician? (Generally, you'll need to request a copy of your child's medical records, including immunizations, growth chart, X-rays, surgical reports, current medications, etc.)
Moving on to a New Doctor
If your child no longer feels comfortable visiting a pediatrician's office, it might be time to find a new doctor. Options include:
• Family-practice doctors. These physicians treat the entire family, from babies through adults, according to the American Academy of Family Physicians (www.aafp.org/online/en/home.html). They are familiar with the challenges of the teen years, and they can perform Pap smears and pelvic exams. To find a family-practice doctor, visit www.webmd.com and click on the "doctors" button right under the search field. You'll be able to search for a family-practice doctor by ZIP code.
• Adolescent-medicine specialists. The main difference between these doctors and internal-medicine specialists is that adolescent-medicine specialists are specifically trained in dealing with body-image, nutrition, sexuality, mental health, substance abuse and other issues that can be of particular concern during the teen years. Visit the Society for Adolescent Health and Medicine's website at www.adolescenthealth.org to learn more.
Kathy Sena is a freelance journalist who frequently covers kids' health. Visit her blog at www.badballet.com