Is a Family Membership Right For You?: A Charlotte Guide
Most memberships offer free admission, discounts, invites to special events and the opportunity to spend quality time together.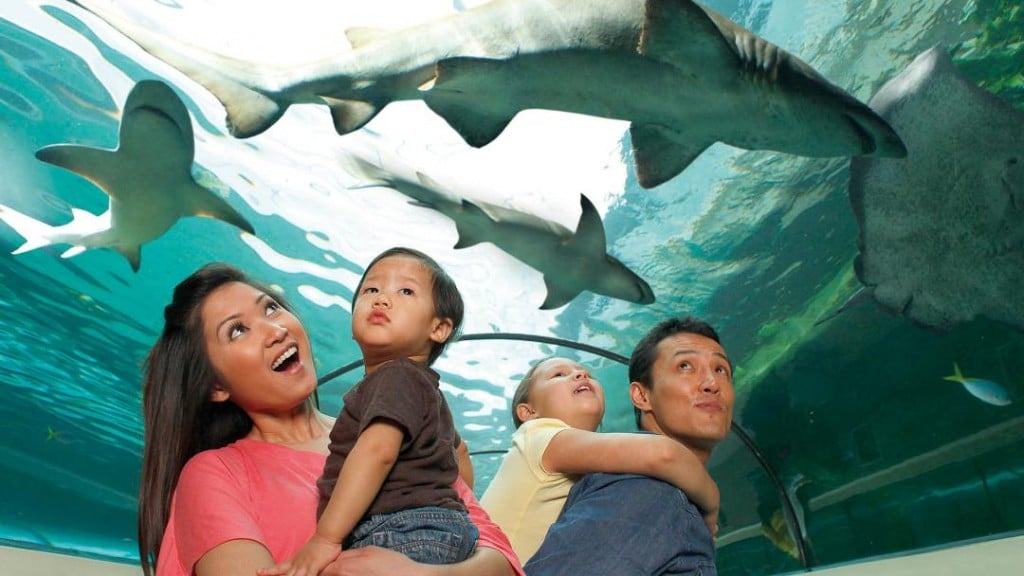 If your family has a favorite spot they love visiting over and over again, purchasing a family membership might be worth looking into. Whether your brood is into the arts, aquariums, outdoor adventure centers, amusement parks or gardens, there are lots of fun places in and around the Charlotte area to play, learn and explore.
Memberships are typically good for a year and offer access to member-only events, special exhibitions and discounts on gift store items, camp registration, restaurants, stores and more. Some memberships also include reduced or free admission to partner museums across the country giving you big bang for your buck and interesting places to stop on the next family road trip!
With the holidays around the corner, an annual family membership could be the perfect gift to ensure lots of memories and quality time together in the upcoming year.
Fees for membership are listed below but are subject to change at any time. Check the Web site or call for the most accurate pricing and benefits information.
For the artsy family
If you are a family that loves a great 2 for 1 (and who doesn't?), the Mint Museum membership has your name written all over it. Family memberships start at $100 (Supporter Level) and include free general and special exhibition admission to the Mint Museum in Uptown and the location on Randolph Road. You also have reciprocal privileges at participating Southeastern Museums. Click here for a complete list! This membership also supports health, wellness and sanity by offering FREE Yoga classes every Wednesday evening at the Mint Museum Uptown.
Your card also entitles you to discounts on programs, classes and summer camps (25%), and a 10% discount on admission for guests and the museum store. Hungry? Present your membership card and eat for less at Halcyon and Something Classic Cafe locations. Yum!
Mint Museum Uptown, 500 S Tryon St, Charlotte, NC 28202, 704-337-2000; Mint Museum Randolph, 2730 Randolph Rd, Charlotte, NC 28207, 704-337-2000
A museum can be a wonder filled place to spark imagination and creativity, especially on cold or rainy days. With a $90 membership to the Bechtler Museum of Modern Art, families can visit their favorite exhibits on a whim and be treated to new exhibitions all year. Membership includes unlimited general admission, invitations to exhibitions, an annual member -only appreciation event, discounts in the museum store and free guided tours on specific dates.
Even better you can take your Bechtler Museum of Modern Art membership on the road with free and discounted admission to museums across the southeast. Click here for a complete list. This does not include free admission into neighboring museums such as the Mint Museum or the Harvey B. Gantt Center. 420 S Tryon St, Charlotte, NC 28202, 704-353-9200
Want access to the huge art scene in Charlotte at a bargain price? For a $10 donation, your family can enjoy the power of the ASC Connect with Culture Card which offers discounts at area arts and cultural organizations. Most discunts are 2 for 1 so you might need to purchase a few cards to cover the family. Plus its only $10!
For the family who loves the outdoors
If your family's idea of the perfect afternoon includes climbing, repelling, canoeing, rafting and hanging from zip lines, the U.S. National Whitewater Center (USNWC) could be for you. For kids 9 and under, an annual pass is $189 and for those 10 and over the price is $219. Only individual passes are offered.
Passes are good for 365 days after first use and offer cardholders unlimited access to all activities at the center – including whitewater rafting. You can also purchase a parking pass for $50 per year and have access to non pass activities like walking trails, concerts and other events. If you don't have the parking pass, the charge is $6 per car. 5000 Whitewater Center Pkwy, Charlotte, NC 28214, 704-391-3900
For families crazy about science and nature
Just like your favorite burger or sandwich, you can build this family membership to fit your taste! For $150 per year, you can join Discovery Place Science in Uptown OR Discovery Place Nature near Freedom Park or be members of both places for $180. Bump it up to $200 and receive unlimited access to four great places to play – Discovery Place Science, Discovery Place Nature, Discovery Place Kids – Huntersville and Discovery Place Kids – Rockingham. Membership to all four locations entitles you to free or discounted admission to more than 360 participating Association of Science and Technology Centers (ASTC) nationwide. Click here for the searchable list by location.
Whatever membership fits you best, your family will enjoy unlimited admission to the museum for two adults and all children 18 and younger in the household with discounts on birthday parties and summer camps, the museum store and the cafe. You'll also receive discounted parking at Discovery Place Science and free parking at Discovery Place Nature and Discovery Place Kids.
Discovery Place Science, 301, N Tryon St., Charlotte, NC 28202, 704-372-6261; Discovery Place Nature, 1658 Sterling Rd, Charlotte, NC 28209, 704-372-6261; Discovery Place Kids – Huntersville, 105 Gilead Rd, Huntersville, NC 28078, 704-372-6261; Discovery Place Kids – Rockingham, 233 E Washington St, Rockingham, NC 28379, 910-997-5266
For thrill seekers
A Carowinds season pass is a must (and a great deal) for families who can't get enough amusement park thrills! Plus with fall and winter events (think SCarowinds and WinterFest), you can use this pass way beyond summer. The Gold Pass starts at $107 per person with unlimited visits to Carowinds and the Carolina Harbor waterpark as well as admission to SCarowinds and WinterFest. Spring for a Platinum Pass at $197 per person and get Gold Pass perks, plus free admission to Cedar Fair Parks across the country including Kings Dominion, Cedar Point and more. Military discounts are also available.
Carowinds also offers a FREE Pre-K pass for children ages 3 to 5. Bring your child and a valid birth certificate or passport showing his or her birthday to receive the pass. Perks include free admission to the park as well as entry to Pumpkin Fest, WinterFest and the Peanuts Celebration! Children 2 and under are free.
Passholders can upgrade their experience with unlimited dining options, drink refills, digital pictures, fast lane ride privileges and others perks for a fee. 300 Carowinds Blvd, Charlotte, NC 28273, 704-588-2600
For water lovers
If your family is looking for a place to splash and play no matter the weather, the Meck Pass from Mecklenburg County Park and Recreation gives unlimited access to Ray's Splash Planet, Mecklenburg County Aquatic Center, Marion Diehl Pool and county outdoor pools for $65 a month. You can purchase a Meck Pass at the Mecklenburg County Aquatic Center or Ray's Splash Planet. Mecklenburg County Aquatic Center, 800 E M.L.K. Jr Blvd, Charlotte, NC 28202, 980-314-3483; Rays' Splash Planet, 215 N Sycamore St, Charlotte, NC 28202, 980-314-4729
Prefer water adventures under the sea? Check out the Companion Annual Pass at SEA-LIFE Charlotte Concord Aquarium. Located in the Concord Mills Mall, the Aquarium has touch pools, tons of fintastic friends to check out and scheduled feeding and educational events. The Companion Annual Pass is $99.95 for one adult and one child and includes unlimited admission to SEA-LIFE, a free guidebook and up to 20% off in the retail store and birthday parties. Plus you have access to behind the scenes tours and member-only events.
One of the best features of this membership is you can transfer it between adults so when family and friends come to town wanting to spend time with the kids, you know exactly where they can go for a few hours of fun. 8111 Concord Mills Boulevard, Concord, NC 28027, 855-450-0512
For families that like to stop and smell the roses
Take outdoor time to a whole new level with an annual membership to Daniel Stowe Botanical Garden. This perfectly manicured green space delights with fountains, flora, topiary's, water features and more. The garden also hosts special events throughout the year including the popular Holidays in the Garden.
For $85, all adults and children living at the same address can become members. You can also opt for the Premiere Household membership at $140 per year and bring a friend every time you visit. Both memberships offer unlimited free daytime admission, invites to exclusive member events, a quarterly newsletter, a one-year magazine subscription and discounts to The Garden Store (10%), classes (15%) as well as select local garden centers and restaurants!
Your membership also entitles the family to FREE or discounted admission to over 300 public gardens throughout North America. Click here to check out the complete list! 6500 S New Hope Rd, Belmont, NC 28012, 704-825-4490