Interview with Superintendent Heath Morrison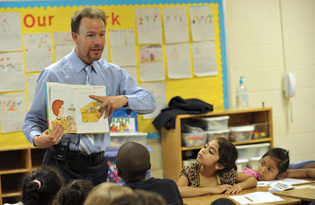 It's day two on the job at Charlotte Mecklenburg Schools and Dr. Heath Morrison is enthusiastic and energetic as he discusses opportunities for the coming school year.
"My goals for the first 90 days are to do what I laid out in my entry plan," says Morrison. "Learn more about the district, figure out what we're doing exceptionally well and where we can make improvements. Find out our areas of foundational strength. Focus on the areas that could be better."
His entry plan outlines five main points around closing achievement gaps; building a strong Board of Education relationship; organizational and efficiency efforts to support schools; a positive district culture focused on learning; and building public trust capital.
Morrison is ready to tackle the challenges of running one of largest districts in the country. He hears many community concerns around the topic of resources and equity. This is one of the areas where public opinion is divided, especially when discussing allocation of resources in urban and suburban schools. "We want every school to be quality and we want every child to have a great education," says Morrison. "Our job is to make sure all students get what they need. We have to listen, when people have concerns and doubts, in all segments of the district," says Morrison, reinforcing his commitment to hearing what parents and community members have to say about the challenges and opportunities in the district.
Public trust capital is important to Morrison. It defines the level of local public confidence in the school system, and he understands that after a year of tough decisions, including school closings and budget cuts, plus the debates around teacher evaluations, there is still work to do here.
"We need to regain trust and public confidence, so that parents who come to our school district feel great about having their kids here. That's where it's an amazing opportunity as a new superintendent. I get to come in and listen with a fresh set of ears. To see with a fresh set of eyes."
One positive note is the current budget and the news that all CMS employees will receive a raise. Something he hopes will take at least one concern off the table for the coming year.
"I'm just really excited. There are only a handful of school districts in the country that can honestly say, "We have the ability to be one of the very best, if not, the best in the country." I think CMS is one of those districts and the foundation is set. I want to be part of leading the district towards that goal."
Dr. Morrison's Entry Plan:
1. To focus organizational efforts and align resources to ensure all students are college and career-ready and achievement gaps are closed
2. To establish and promote highly effective district governance by building a trusting, productive, collaborative relationship with the Charlotte-Mecklenburg Board of Education.
3. To increase organizational effectiveness and efficiency and ensure high performance and support to schools
4. To establish a respectful, positive district culture centered on teaching and learning
5. To build public trust capital and confidence through open, honest communication and positive relationships.